Julie Pinson (Billie Reed) will exit Days of our Lives in the next few weeks, Soap Central has learned. According to a setside source the actress is being written out as part of the show's continued efforts to trim its budget. It is also believed that decision to write out Billie was made by the show's interim writers, who are substituting for the show's regular writers while they are on strike.
When NBC confirmed in August 2004 that Pinson has been hired as Billie, it wasn't the first time that the actress' name had been tied to the role. In fact, Pinson had been rumored to be joining the cast of the NBC soap for several years prior to the official announcement.
How do you feel about the dismissal of Julie Pinson as DAYS' Billie?


I'm upset. I like Pinson's Billie and don't think she should've been let go
75%
I don't like Billie and I think writing out the character is the way to go.
15%
I'm a Pinson fan, but Billie just hasn't had interesting story of late.
9%
I am not sure how I feel about her dismissal at this point in time.
1%
I've never cared for Pinson as Billie. I'd like to see Lisa Rinna return.
1%
Other
0%
Poll Posted: January 3rd, 2008
In March 2002
, DAYS' writers wanted to bring Billie back to the show's canvas. However, it was widely assumed that the show's first choice - and possibly best known - candidate, Lisa Rinna, would be unavailable to reprise the role because of scheduling conflicts. The show's second choice, Krista Allen, turned down a request to return to DAYS because she reportedly had no interest in returning to daytime television. While fans batted around Pinson's name as a viable recast, due in part to a strong resemblance to Rinna, DAYS was ultimately able to talk Rinna
into returning to the show
. Rinna stuck around Salem for about six months before leaving.
"I'm very blessed to have been back there and it was a fabulous experience. It's just time to move on," Rinna said at the time.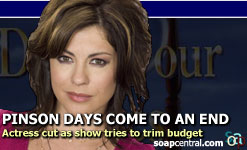 With Billie written out, the talk of Pinson joining the show was essentially silenced. About 18 months later, the whispers started to grow once again. Billie was returning to Salem - but who would tackle the role.
"It is obvious that Lisa is tied up," a show spokesperson said in announcing that Pinson would be taking over the role. "Needless to say, Lisa is and will always remain a part of the DAYS extended family."
Prior to joining Days of our Lives, Pinson was known to daytime viewers as Eve Lambert on the 30-minute ABC soap Port Charles. Pinson was one of the General Hospital spin-off's original cast members and remained with the show four five years when, in a stunning story twist, her character was killed off. In 2004, Pinson appeared for three months on The Young and the Restless.
A final airdate was not immediately made available, as a show spokesperson noted, "Julie is still at work. We do not comment on contracts."
Pinson ultimately will make her final appearance on February 5th.