Alicia Leigh Willis is leaving GH and the show is recasting Courtney...


I'm crushed that Willis is leaving. GH needs to find a way to get her back.
95%
Bringing in Erin Hershey Presley would be a great boost for GH.
4%
I've never cared for Courtney and would be glad if she were written out.
0%
I'd like to see Lauren Woodland take over the role of Courtney.
0%
I like Willis, but I really think it is time for Courtney to be written out
0%
I'd rather see another actress take over the role of Courtney.
0%
Other
0%
Poll Posted: November 4, 2005
Fans hoping that the long-running rumors claiming
Alicia Leigh Willis
(
Courtney Matthews
) would be leaving General Hospital were false are in for some very bad news. The actress has now confirmed that she has, in fact, decided not to renew her contract with the ABC soap. She will exit the show later this year and focus her attention on the upcoming pilot season, the time when networks are pitched new show ideas for the fall season.
Rumors of Willis' exit first surfaced
earlier this year
around the same time that
Tamara Braun
(ex-
Carly Corinthos
) announced that she would be leaving General Hospital. Close friends with Braun, Willis was rumors to be following her friend into the General Hospital sunset and into a search for projects outside of daytime television. Willis immediately dismissed talk that Braun had somehow talked her into leaving the show. Still, rumors floated around for months afterward stating that the actress had already made up her mind to leave.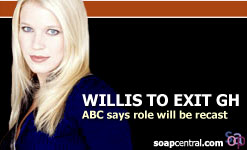 "I can finally speak out about my contract negotiations now that ABC has announced I am leaving," Willis said in a statement on her
official web site
. "I will be leaving the role of Courtney at the end of the year. It has been a great four years, and it was not an easy decision. ABC has been wonderful to me, and so have all of the fans and friends I have made."
Willis joined the cast of General Hospital in December 2001. In 2003, she earned an Outstanding Younger Actress
Daytime Emmy nomination
.
ABC has announced that it will recast the role of Courtney. And there are already a handful of actresses said to be in line for the role.
Among the leading candidates is Erin Hershey Presley (ex-Alison Barrington, Port Charles). Presley bears and uncanny resemblance to Willis and has been a favorite of ABC Daytime President Brian Frons for some time. Presley's name has in recent years been brought up as a possible addition to the cast of The Bold and the Beautiful.
"Erin Hershey Presley would be a groovy Courtney," Frons said.
Another actress said to be in the running for the role of Courtney is recently-released Y&R actress
Lauren Woodland
(
Brittany Hodges
). Woodland made her last appearance on CBS's
The Young and the Restless
on November 2nd. She was
cut from the cast
due to budget concerns.
Willis' last airdate has yet to be determined, but she is expected to air into December.