Courtney Matthews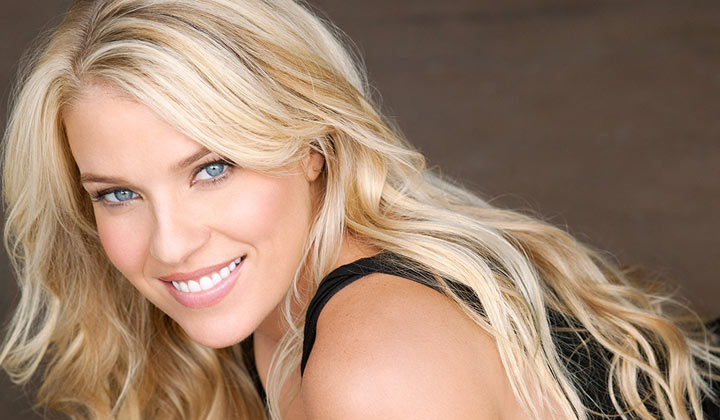 Born August 12, 1982
Died February 21, 2006
Founder of the Courtney Matthews Foundation to help under-privileged kids
Former CEO of Pride-Phillips
Former waitress at Kelly's Diner
Former cocktail waitress at Club 101
Former stripper at the Oasis
Formerly 324 Wharf Street, Port Charles, New York (Kelly's Diner)
Formerly 122 Harbor View Drive, Port Charles, New York (Harbor View Towers: Penthouse #2)
Formerly 66 Harbor View Road, Port Charles, New York (Quartermaine Mansion)
Formerly in Atlantic City, New Jersey [prior to 2001 arrival]
Engaged to Nikolas Cassadine (Engaged: Feb 14, 2006)
Jason Morgan (invalid)
Jasper Jacks [Married: June 3, 2005; divorced: January 2006]
Mike Corbin (father)
Janine Matthews (mother)
Sonny Corinthos (half-brother)
Dante Falconeri (paternal half-nephew)
Michael Corinthos III (paternal half-nephew; via adoption)
Kristina Davis (paternal half-niece)
Morgan Corinthos (paternal half-nephew)
Baby Girl McCall (paternal half-niece; deceased)
Avery Jerome Corinthos (paternal half-niece)
Rocco Falconeri (paternal half-nephew once removed)
Diego Alcazar (Foster son)
Unnamed child (miscarriage; with Jason)
Spencer Cassadine (son; with Nikolas; born 2006)
Jason Morgan (lovers)
Faith Rosco (kissed)
Brian Beck (kissed; deceased)
Nikolas Cassadine (affair)
Improper use of medical equipment: Used an emergency helicopter administered by Alan to escape Port Charles from the rooftop of General Hospital
Shot Coleman Ratcliff [Oct 2002]
Held A.J. Quartermaine at gunpoint [Jan 27, 2003]
Ran down Elizabeth Webber with her car after taking too many pain pills [Sep 5, 2003]
Defied a court order: Along with Jason, took Michael and Morgan to France when a social worker arrived to take them away [Dec 9, 2003]
Arrested for assaulting Faith Rosco and her bodyguard [Dec 17, 2003]
Shot Brian Beck in the back [Jan 23, 2004]
Assaulted Jason by hitting him in the head to prevent him from killing Lorenzo Alcazar [Apr 12, 2004]
Miscarriage [Aug 2003]
Car accident [Oct 22, 2003]
Addiction to pain killers [2003]
Succumbed to a deadly virus shortly after giving birth [2006]
Courtney lived with her mother, Janine, in Atlantic City. With Janine in Port Charles "on business" (she had been hired by Skye to blackmail Edward) a little too long, Courtney arrived in Port Charles looking for her mother.
Courtney not only found her mother in Port Charles, but was reunited with her father, Mike Corbin, whom Janine had told her had died years earlier. Janine confessed to Courtney that Mike's gambling addiction made life with him too unpredictable and so she told Courtney Mike was dead and took her away to start a new life in Atlantic City. Not only did Courtney reconnect with her father, but she also found out she had a half-brother, Sonny Corinthos.
Courtney had a difficult time with her mother, father, and newfound brother. Due to Janine's deception, Courtney's relationship with her mother became strained. Sonny immediately became a loving, but overly controlling brother. And Mike tried to be a dutiful father, but Courtney couldn't be sure when he was sincere and when he was just following Sonny's orders.
Alone and confused, Courtney met A.J. Quartermaine. A.J. befriended Courtney, who felt safe and comfortable with him. Unbeknownst to Courtney, A.J. pursued the relationship with her in an attempt to get his son, Michael, back from Sonny and Carly. Despite numerous attempts by many people, no one was able to get through to Courtney that A.J. was just using her. In fact, it drove Courtney deeper into A.J.'s arms. The turning point occurred when A.J. arrived at the opening of Carly's club with Courtney on his arm, which infuriated Sonny. Zander punched A.J., who faked a total knock out and was sent to the hospital. At the hospital, A.J. convinced Alan that he was truly in love with Courtney and that he wanted help to get out of Port Charles so that he and Courtney could escape Sonny and live in peace. Alan agreed to help. Claiming that he loved her, A.J. convinced Courtney to leave Port Charles with him. The two of them escaped from the rooftop of General Hospital on a helicopter arranged for by Alan. A.J. and Courtney hid out on St. Sofia, a Caribbean island. A.J. teased Sonny by sending him pictures of Courtney. Ned found out where they were hiding. He and Alexis planned a trip to St. Sofia when Sonny interrupted. Unable to lie to him, Alexis told Sonny where A.J. was hiding. Alexis and Sonny hopped a plane to St. Sofia with Ned, Jax, and Skye close behind. Sonny and Alexis were the first to land and they quickly burst through the door to A.J. and Courtney's casita to find the couple sleeping together. Sonny dragged A.J. outside and began strangling him when Courtney made a shocking announcement...she and A.J. had been married on the island!
Sonny let A.J. live, but only to save his own relationship with his sister and not make a martyr of A.J. in Courtney's eyes. But A.J. wasn't done with Sonny. Secretly, A.J. offered Sonny a shocking trade: he would divorce Courtney for the return of his son, Michael. Sonny turned down the offer and pretended to be friends with A.J. for Courtney's benefit. The newlyweds received a cold reception back in Port Charles from everyone except from Edward, who decided to help A.J. with his plan. Edward quickly became A.J.'s coach and convinced Monica to allow him and Courtney to move into the mansion. But as tensions between the newlyweds and the family rose, A.J. found himself truly falling in love with Courtney. Courtney's love gave A.J. the strength to stand up to his family's mistreatment. Fed up with his family and Edward pressuring him to turn on Courtney, the couple moved out of the mansion. In retaliation, Edward froze all of A.J.'s assets and accounts. Penniless, A.J. and Courtney moved into a small rundown apartment. Courtney, ever the pragmatic optimist, took a job waiting tables at Kelly's, while A.J., already reeling from the shock of being cut off financially and the embarrassment of not being able to support his wife, schemed to get money. His schemes backfired and A.J., former rich boy, cracked under the pressure of his own expectations. One night he got drunk and, with Courtney in the car, drove the car right into a local strip club, causing thousands of dollars worth of damages. Courtney kept A.J. out of jail by agreeing to the club owner's demand that she strip at the club in order to pay off the cost of the damages and keep him from going to the cops. Courtney took the stage name of Daisy and hid her new profession from A.J. by telling him she had a night job at a bank. She hated it, but saw that A.J. was working to clean himself up and had even taken a low-paying, but honest, job on the docks. She was only a few weeks from paying off the debt completely when Sonny found out. He offered to help, but Courtney begged him to stay out of it and leave her and A.J. alone. Sonny did, but not for long. In retaliation against A.J. talking to Michael and telling the boy that Sonny kills people, Sonny and Jason took A.J. to the club. Shocked, A.J. went out and got drunk. He later returned and burned down the club. Jason rescued Courtney and A.J., at Courtney's request, by telling Coleman to back off and protecting A.J. from arson charges. A.J. and Courtney argued and it came out that they each blamed themselves for the situation. This mutual revelation brought the couple together and they re-declared their love for each other, vowing to stay together and trust each other. A.J. had to take a job which involved frequent trips out of town. While he was gone, Courtney began being stalked. Jason stepped in to protect her, and Courtney's animosity for him slowly thawed. She had quickly fallen in love with him, but although he felt the same, she still loved A.J. and refused to cheat on him. This problem was solved when Courtney found out that an insecure A.J. was her stalker! She dumped him, took up with Jason, and finally mended fences with Sonny, also bonding with his wife, Carly Corinthos. While Jason was embroiled in a murder trial and a resulting sham marriage to Brenda Barrett, he and Courtney kept their relationship secret. When the problems cleared up, they told Sonny. He was furious, but after a suitable period of brooding, accepted their relationship. They got engaged and planned a happy future together.
Those plans were shattered when Carly was kidnapped on the big wedding day. Not only did Jason and Sonny cherish Carly, she was carrying Sonny's child. The search for her occupied all their time and Courtney unselfishly went along with their efforts. In the midst of the chaos, she discovered that SHE was also pregnant. When she gauged Jason about a family and he told her he didn't want to bring a child into their current violent situation, she kept quiet. Soon after, she was kidnapped by mobster Lorenzo Alcazar and held hostage on his yacht in the place of Carly (who had been freed by Sonny and Jason). Desperate to escape, she jumped into the water during a storm and swam to shore. The efforts were too much for her and she woke up in a hospital bed. Sadly, she had lost the baby.
Jason found her before Alcazar could take her hostage again. Back at home, Courtney finally confessed that she had been pregnant but lost the baby when she escaped. Unable to find comfort with Jason, Courtney briefly turned to pain pills as a means of escape. While drugged out one night, she ran down Elizabeth but didn't remember doing so later. When Jason and Sonny figured out that she was responsible, they did everything they could to make sure she didn't confess to the accident. In an effort to leave their problems behind for awhile, Jason took Courtney to France where they were married. But once they got home, they found themselves deeply entwined in Sonny and Carly's problems. One stormy night, Courtney found Carly in labor at her new house. Carly begged her to go for help, and as Courtney was racing back to town she flipped her car. She was taken to the hospital where she told Jason and Sonny where to find Carly. Jason stayed with Courtney as she recovered from her injuries.
Courtney cared for her nephews while Carly lay in a coma. Fearing for the safety of the kids, she took them to live in another town away from the mob violence. While there, she met Brian Beck, the local handyman/sheriff who also owned the house. Jason eventually brought her back to Port Charles and Brian seemingly followed them when he got a job on the PCPD. Jason and Courtney began to drift apart as Courtney realized she couldn't live in Jason's world with all the secrets and violence. She moved out of the penthouse and into a room over Kelly's. Brian began trying to spend more time with her and convinced her to accompany him to the opening of the Haunted Star. Jason and others tried to warn Courtney that Brian was only using her to get dirt on Jason and Sonny. Courtney ignored their warnings until she began noticing things that supported their warnings. She followed Brian the night he went to the docks to ambush one of Sonny's deliveries. A shoot out ensued and Courtney shot Brian in the back when she saw Brian prepared to do the same to Jason. Courtney felt extremely guilty and wanted to turn herself in. But Jason wouldn't let her and even Brian protected her by naming Zander as his shooter.
The night of the fire, Courtney was trying to find Jason in the burning building when an old lady convinced her to help get her and the lady's dog to safety. Following the fire, the woman, who turned out to be incredibly wealthy, gave Courtney a hefty check for helping her. Courtney became the CEO of the company that Jason and Sonny had to deal with to ship to and from the pier. Courtney tried to force Sonny and Jason to go legit by not allowing them to conduct any illegal business on her property. But after a few run-ins with Jason, Sonny, and Faith, Courtney decided to sell the property. When she realized that Jason and Sonny were trying to buy it through a dummy corporation, Courtney made a knee-jerk decision and awarded the property to the other bidder. She was horrified to discover she had sold her property to Alcazar. Jason felt very betrayed by her decision as did Sonny. Courtney made one final effort to reunite with Jason before signing the divorce papers. But she quickly committed the ultimate betrayal in Jason's eyes by bashing him over the head in order to prevent him from killing Alcazar. Then she ruined her relationship with Sonny by calling the cops after he left to kill Alcazar himself. Sonny subsequently disowned Courtney.
Courtney made an effort to start a new life by starting a foundation to help under- privileged kids. But she soon realized that no one believed it wouldn't be a front for mob dealings. So she was forced to return to using her maiden name and convinced Jax to sit on the board of the foundation. When Jax got a court order for Sam to submit to a paternity test, Courtney told Jax she thought he'd make a good father and that everything would work out for him. Secretly, she knew Carly planned to tamper with the results of the test in Jax's favor. But when the test proved that Jax wasn't the father, Jax asked her to go to Monte Carlo with him, promising that he would donate half his winnings to the foundation if she went with him. She agreed and their relationship seemed to be turning romantic.
Jax offered another tempting bet to Courtney – if she could deny his advances for three months, he'd donate $10 million to her foundation. Courtney took on the bet, and spent the next few months desperately trying to win. Jax didn't make it easy. He flew her to Italy, took her camping and spent the rest of the time wining and dining her. The two kissed on occasion, but Courtney was firm in her desire to win the bet. As things got more heated between the couple, Courtney turned to Jason in hopes of turning Jax away from her. Running into Jason near Kelly's, she caught him off guard and began kissing him. The decoy didn't fool Jax, who only pressed the issue further – even offering Courtney the $10 million if she would just forget the bet. Courtney refused and was able to dissuade Jax until the end of the bet, though it took some door-barricading to do it. As the clock struck 12 and the bet came to a close, Courtney pushed Jax away, telling him she didn't want to be loved and then left by a heartbreaker like Jax. But she quickly regretted her words and ran to his apartment... where she found Jax in a towel and heard a woman's voice call him from another room. The voice turned out to be Skye's, who had escaped from prison and was using Jax's home as cover. Courtney decided to give Jax another chance and boarded a plane to meet Jax in Italy – where she found him again naked and heard the voice of another woman (there was no explanation this time). Jax apologized and the two decided to try a relationship.
Just as things began with Jax and Courtney, another man entered her life. Courtney received a call from Child Services to inform her that there was a boy who needed a foster home, and no one else was available. Courtney accepted the responsibility and purchased several toys for the boy. But when Diego arrived, he wasn't the boy she expected, but a teenage boy. Diego hit on Courtney constantly, causing Jax to become extremely irritated with the boy's lack of respect. When the two would fight, Diego would lash out at Jax, claiming that Jax was only jealous. Courtney and Jax found themselves together for the first time just as Diego ran away. Courtney felt responsible, but Jax eased her conscious and the two continued their relationship. Diego returned and despite problem after problem, Courtney continued to offer Diego a reliable place to live, and continued to help him out of the trouble he was determined to get in. Her relationship with Jax continued, and Jax, who decided to rebuild the Port Charles Hotel, went as far as to name the hotel after Courtney, who was extremely flattered. Eventually Jax introduced Courtney to his mother, Lady Jane, but their first meeting wasn't the best. Lady Jane bombarded Courtney with questions about her past marriages and her true feelings for her son. Courtney defended herself quite well, but Lady Jane still needed some convincing before she trusted Courtney with her son's heart.
Eventually, Lady Jane came around and gave Jax her blessing to marry Courtney. After their marriage, Courtney and Jax decided to start a family immediately but the news was not good. Courtney learned that there was little hope of her carrying a child full term. Jax and Courtney were desperate to have a child so they decided to use a surrogate. When Elizabeth Webber offered to be their surrogate, they gladly accepted. Courtney's joy soon turned to despair when she learned that her eggs were not viable. Elizabeth offered to donate her own eggs and Jax readily accepted. Courtney had reservations but pushed them aside for Jax's sake. Soon, Elizabeth was pregnant via in vitro fertilization.
Courtney's fears were soon realized when she began feeling left out of the pregnancy. Jax was spending more time with Elizabeth, showering her with attention as the pregnancy progressed. Feeling selfish for resenting the attention Jax bestowed on Elizabeth, Courtney started opening up to her new friend, Nikolas Cassadine. Nikolas was having his own marital troubles because of Emily's rape. What started out as friendship soon flourished into love. When Emily and Jax realized that their spouses were more than just friends, the marriages ended. Unfortunately, Jax soon found out that Elizabeth was not willing to give her unborn child up to a single father. She believed strongly that the baby should have two parents. Fearing that Elizabeth and Lucky would end up with custody of the baby, Jax decided to reconcile with Courtney long enough to gain custody of his child. The reconciliation was short lived. Courtney soon realized what Jax was doing and left him for good. Shortly afterwards, Elizabeth suffered a miscarriage.
Courtney and Nikolas found happiness together. Their joy knew no bounds when Courtney learned that, miraculously, she had conceived a baby. Jax, despondent over Elizabeth's miscarriage soon learned of the pregnancy and demanded that Courtney take a paternity test since the baby could have been his. Unbeknownst to Courtney and Nikolas, Jax bribed the technician to change the results to show that he was the father of the baby, not Nikolas. Disappointed, Courtney and Nikolas tried to deal with the threat of Jax promising to sue for full custody of the baby once it was born.
Things got quite ugly between the couple and Jax. Hope came in the guise of Dr. Meadows, who was a victim of a hit and run driver. She hinted that the paternity results may have been tampered with. Courtney and Nikolas decided to have a second paternity test done; this time at a different hospital so that they could keep it secret. Unfortunately, Jax proved to be quite tenacious. He got wind of the second paternity test and once again bribed the technician to change the results to read that Jax was the father. When the results came back, Courtney and Nikolas were disappointed but determined to do what they could to fight Jax for custody. By this time, Helena had returned to Port Charles and was determined that she would end up raising her great-grandchild.
Courtney decided that she needed time to herself so that she could focus on her pregnancy so she left town for awhile. It played right into Helena's plans. As soon as Courtney was alone, Helena moved in and kidnapped the pregnant mother. She held her prisoner for only a short while. Courtney managed to overpower Helena and escape captivity. Realizing the threat Helena posed, Courtney contacted her father and had him hide her. Courtney stayed hidden until she contracted a deadly virus that was sweeping Port Charles. The virus sent her into labor and Courtney was brought into General Hospital where she was reunited with Nikolas. As she was rushed into surgery for an emergency C-Section, Nikolas and Courtney reaffirmed their love.
Courtney's condition was grave after giving birth. Overwhelmed with guilt, Jax confessed to Courtney that he had both paternity tests changed. Courtney forgave him but was determined to make sure that Nikolas learned that the son she had given birth to was his, not Jax's. Unfortunately, Courtney died before she could hold her son or tell Nikolas the truth. Jax decided to keep the secret. Eventually, Carly would help Jax keep the truth covered up. She had fallen in love with Jax and felt that the baby was better off with them rather than Nikolas. It was Robin who eventually learned the truth and decided to tell Nikolas. Nikolas immediately claimed his son and changed his name from John to Spencer to honor his siblings.
Courtney's spirit made an appearance several years after her death. Her spirit paid a visit to her son Spencer after he was injured in a fire. Courtney reminded her son that she loved him unconditionally and gave him the strength to face the injuries he had sustained from the fire. She also advised him to treat others with kindness.

Post a Comment

Share on Facebook

Tweet this

Submit Feedback