Dante Angelo Falconeri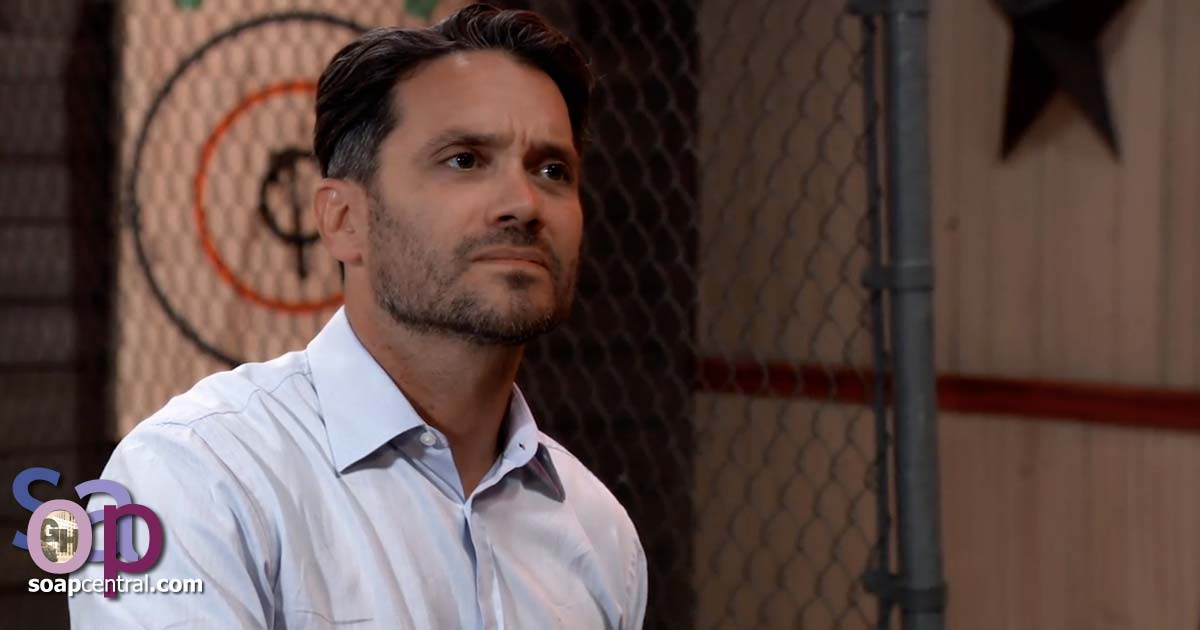 Born in 1984 (was said to be four years older than Lulu in 2010)
Dominic Pirelli (undercover alias)
Undercover agent for WSB
Former detective for the Port Charles Police Department
Former bouncer at a brothel in Jacksonville, FL
Formerly on a special FBI task force to shut down organized crime in Port Charles
Former NYPD police officer
Formerly assigned to guard Brenda Barrett [2007 and 2010]
Unknown; undercover overseas
Falconeri residence, Port Charles, New York
Formerly 682 Paulson Street, Apartment 4B, Port Charles, New York
Formerly 324 Wharf Street, Port Charles, New York
Singled/Divorced from Lulu Spencer [Aug 21, 2019]
Married to Lulu Spencer [Proposed: Sep 21, 2011; Engaged: Oct 5, 2011; Broken engagement: Dec 5, 2011; Reconciled: Dec 16, 2011; Married: Dec 23, 2011 (Dec 25 on the show); Divorced: Aug 21, 2019]
Olivia Falconeri (mother)
Sonny Corinthos (biological father)
Mike Corbin (paternal grandfather)
Adela Corinthos (paternal grandmother; deceased)
Talia Falconeri (maternal grandmother)
Michael Corinthos III (paternal half-brother; via adoption)
Kristina Davis (half-sister)
Morgan Corinthos (half-brother; deceased)
Lila McCall (half-sister; stillborn)
Avery Jerome (half-sister)
Theresa Falconeri (maternal great-aunt)
Vito Falconeri (maternal uncle)
Ric Lansing (paternal uncle)
Courtney Matthews (paternal aunt; deceased)
Molly Lansing (paternal cousin)
Spencer Cassadine (paternal cousin)
Violetta Falconeri (maternal first cousin, once removed)
Connie Falconeri (maternal first cousin, once removed; deceased)
Tommy (maternal cousin)
Unborn child (miscarriage with Lulu, via surrogate Maxie Jones)
Formerly Connie Falconeri (via surrogate; revealed to be biological child of Damien Spinelli and Maxie Jones. Later, name changed to Georgie) [Born Aug 21, 2013]
Rocco Falconeri (son, with Lulu, via surrogate Britt Westbourne; previously named Ben) [Born Sep 9, 2013]
Charlotte Cassadine (stepdaughter with Lulu)
Lulu Spencer (dated)
Rebecca Shaw (picked her up in a bar)
Claudia Zacchara (kissed)
Valerie Spencer (affair)
Helped cover up the death of Aleksander Janacek [2007; flashback Nov 9, 2010]
Various crimes working undercover as Dominic Pirelli [Jun 2009 to Jan 2010]
Perjury; lied on the stand to protect Sonny Corinthos [Feb 5, 2010]
Assaulted Ronnie Dimestico [March 29-30, 2010]
Punched Sonny Corinthos [Apr 6, 2010]
Arrested for obstruction of justice [Apr 12, 2010]
Lied multiple times for Michael Corinthos III [Aug 2010]
Seized Jason Morgan's transfer papers [Aug 5, 2010]
Assaulted a suspect [Jul 18, 2011]
Concealed that Michael Corinthos had discovered Chuck Donofrio's body [Jan 2012]
Held in police custody after evidence linked him to several attacks on women (Delores Padilla released Dante, and it was later revealed that Ronnie Dimestico had framed him) [Apr 30, 2012]
Assaulted Milo Giambetti [May 2013]
Assaulted police suspect Coleman Ratcliff [Aug 25, 2014]
Physical altercation with Stavros Cassadine [Sep 16, 2014]
Physical altercation with Johnny Zacchara [Jan 16, 2015]
Threatened to kill Luke Spencer if he went near Lulu and Rocco Falconeri [Feb 25, 2015]
Threatened to break Dillon Quartermaine's neck [Jul 2, 2015]
Assault; punched Julian Jerome [Sep 11, 2015]
Conspiracy to fake the death of Leo Falconeri-Jerome [Jun to Oct 2015]
Covered up Lulu's role in Valerie Spencer's kidnapping [Jan 2016]
Threatened to kill Peter August [May 25, 2018]
Threatened Jason Morgan with knife [Mar 28, 2019]
Shot Peter August in shoulder [Jul 15, 2019]
Sustained a concussion at age ten [revealed on Feb 1, 2010]
Suffered a broken arm in high school [revealed on Feb 1, 2010]
Choked by Aleksander Janacek [2007; revealed in Nov 9, 2010]
Knocked unconscious a total of six times prior to 2009 [revealed on Jan 6, 2011]
Severe asthma as a child [revealed on Oct 3, 2011]
Broken wrist during Little League Baseball [revealed on Nov 22, 2011]
Shot during an ambush in the woods [Jun 22, 2009]
Assaulted by Lucky Spencer and Ethan Lovett [July 31, 2009]
Hospitalized after being hit by a car while trying to save Morgan [Sep 9, 2009]
Faked injury/being knocked unconscious to hide a witness [Oct 6, 2009]
Shot by Sonny Corinthos and critically wounded with a bullet lodged near his spine [Jan 29, 2010]
Allergic reaction to goldenrod [Jun 4, 2010]
Drugged by Brook Lynn [Aug 17, 2010]
Knocked unconscious [Oct 29, 2010]
Choked by Anton Banovic [Nov 1, 2010]
Beaten up by thugs at a brothel in Jacksonville, Florida [Jul 15, 2011]
Knocked unconscious [Aug 2, 2011]
Knocked unconscious [Aug 11, 2011]
Shot in the back, required surgery to remove a bullet from his lungs [Sep 23, 2011]
Passed out in an alley [Nov 23, 2011]
Hit over the head and rendered unconscious by Stavros Cassadine [Mar 21, 2013]
Latex/fruit allergy [revealed Feb 3, 2014]
Rendered temporarily unconscious by Victor Cassadine [Sep 3, 2014]
Pushed down a flight of stairs and hit over the head with a crowbar by Luke Spencer [Jan 29, 2015]
Knocked unconscious in explosion [revealed on Feb 3, 2015]
Collapsed in the emergency room [Feb 4, 2015]
Stabbed with a pen and knocked unconscious during an accident in a police transport van [May 6 to 9, 2016]
Exposed to malaria [revealed on Aug 9, 2016]
Tortured and brain washed [revealed Mar 25, 2019]
Agreed to undergo extensive inpatient treatment for post-traumatic stress with the WSB at various specialized medical facilities around the world [Mar 25, 2019 to present]
Dante arrived in Port Charles on June 22, 2009, as Dominic Pirelli, an undercover New York City Police officer. After he infiltrated the Zacchara organization, he was ordered to kill Jason Morgan, but things went wrong, and Dante made his way to Greystone Manor, where Kristina hid him from her father and attended to his injury. After he recovered, it was revealed that he was Olivia Falconeri's son. Olivia was stunned to see her son in Port Charles, especially when he revealed that he was attempting to infiltrate the Corinthos organization.
Using his alias, Dominic Pirelli, Dante began a relationship with Lulu Spencer while he also made inroads gaining Sonny's trust. Jasper Jax, who had uncovered the truth about Dante's identity and his undercover assignment, urged Dante to work quickly to put Sonny away. Meanwhile, Dante's feelings for Lulu began to grow, and he found himself sharing that he was Olivia's son -- and an undercover cop.
One night, Dante and Lulu attended the Crimson Art Show, which featured the artist Franco. Dante discovered a photo of a crime scene that seemed familiar, as well as a graffiti tag reminiscent of his first case in New York City. Shortly afterwards, Franco anonymously threatened to expose Michael for Claudia's murder by sending a photo of Michael standing next to Claudia's body to Jason.
Dante questioned Sonny about Claudia's murder, which made Sonny suspicious. Dante backed off, but he continued to observe Sonny with his family, and he felt guilty about building a case against his boss. After Dante witnessed his mother and Sonny growing closer, he remained steadfast in his investigation. Meanwhile, Franco continued games with Jason then kidnapped Lulu. Franco took her to an isolated warehouse and strapped a bomb to her, but Dante rescued Lulu before the bomb detonated.
Dante realized that his case against Sonny had reached an end, so he tried to break up with Lulu to protect her. Lulu insisted that she was in their relationship for the long haul, and Dante admitted he loved her. His undercover assignment ramped up when Sonny decided to pass the reins of the organization to "Dominic." Michael, who had hoped to follow in Sonny's footsteps, was furious when he overheard the conversation between "Dominic" and Sonny. When Michael discovered that "Dominic" was an undercover cop, he told his father.
At the same time, Dante learned that an arrest warrant had been issued for Sonny. Determined to give the Corinthos family one last day together, Dante insisted on waiting until after Josslyn's christening to make the arrest. Sonny and Jason had used the time to confirm that Dante was a police officer, prompting them to formulate a plan for Dante's demise.
Dante walked into a trap when he arrived to arrest Sonny. Dante flashed his badge then told the story of Lieutenant Polleti. Lt. Polleti had been a mentor and father figure to Dante, and Dante blamed Sonny for the man's death. Unmoved by Dante's tale, Sonny shot Dante at point-blank range in the chest just as Olivia arrived at Sonny's home. Horrified by the sight of her son bleeding on Sonny's living room floor, Olivia angrily informed Sonny that Dante was his son.
After Dante recovered from the near-fatal shooting, he learned the truth about Sonny and Olivia's brief teenage relationship that had resulted in Dante's conception. Dante struggled to make peace with his mother's life-altering secret and his father's criminal history, but he refused to name his father as the man who had shot him. Dante was fired from his job with the New York City Police Department, but the Port Charles Police Department quickly snatched him up.
Dante settled into life in Port Charles, and his relationship with Lulu heated up. However, Claudia Zacchara's unsolved murder continued to cast a cloud over the Corinthos clan. Dante found himself torn between his duty as a police officer and his loyalty as a brother when Michael was believed to have been a witness to Sonny murdering Claudia. After Sonny whisked Michael to his private island -- and out of reach of the law -- Dante was forced to fetch his brother. Dante was stunned when Michael admitted that he had killed Claudia in an effort to keep her from harming Carly and taking Josslyn. Michael then offered Dante proof of his guilt.
Dante returned to Port Charles with Michael, determined to find a legal way to help Michael. Unfortunately, Sonny had been on trial for the murder, and a verdict had been reached. Dante entered the courtroom and announced that Michael, not Sonny, was the real killer. Sonny was furious. Michael was charged with a Class D felony and sentenced to five years in Pentonville Prison. In order to protect Michael, Jason convinced the prosecutor to send him to prison along with Michael. Later, Dante managed to convince the judge to overturn Michael's sentence. The judge agreed to change his ruling if Michael lived with Dante.
Dante's next assignment was to catch Franco. Jason was released from prison and used as bait to lure Franco out of hiding. The plan worked, but Franco leaped to his death during a confrontation with Jason. It was later revealed that Franco had not jumped; it been a look-alike. Because Michael had been sent to Pentonville, thanks to Dante, Carly plotted her revenge against Lulu and Dante. She coerced Dante's old friend, Brook Lynn Ashton, to return to town and seduce Dante in hopes that he and Lulu would break up. Over time, Brook Lynn began to feel guilty for what she had done to Dante and Lulu, so she revealed Carly's scheme to Lulu. However, Carly claimed that she had wanted Brook Lynn to seduce Dante in order to prove that he was like Sonny, which Lulu believed.
Adding to Lulu's fears was the revelation that Dante had met his father's ex, Brenda Barrett, in 2007 when he'd been assigned to guard her after her relationship with the Balkan's son, Aleksander Janacek, had ended. Brenda had been horrified to learn that Aleksander had been exploiting children. Aleksander had been obsessed with Brenda, so he had taken to stalking her in an effort to control her through fear. Things escalated, and one night, Aleksander had attacked Brenda. Dante had sprung into action. During the altercation between Dante and Aleksander, Brenda had picked up a gun and shot Aleksander. To protect Brenda, Dante had dumped the body and never reported the incident to the police.
Carly was certain that Dante and Brenda had had an affair, and her suspicions mounted when Spinelli found evidence that Dante had given Brenda full custody of a child. In truth, the child was Brenda and Aleksander's son, but Dante had claimed paternity to hide the truth from Aleksander's evil father, the Balkan. Lulu felt betrayed and ended things with Dante because she couldn't trust him.
Tragedy struck when Lulu's nephew Jake was killed in a hit-and-run accident. An investigation revealed that the driver had been Luke, who had been intoxicated at the time of the accident. When Luke vanished, Lulu went to work undercover in a brothel. Dante was hot on her heels and took a job as a bouncer to protect her from the besotted brothel owner, Javier. Danger lurked around every corner, and it wasn't long before Javier learned the truth about Dante's real job. Javier arranged for his men to beat up Dante while Javier attempted to rape Lulu. Fortunately for Lulu, Dante was able to turn things around and save her from Javier's devious intentions.
Dante and Lulu returned to Port Charles empty-handed. However, Dante surprised Lulu by giving her a key to his loft. Their happiness was short-lived when Lulu discovered that Dante had been keeping another secret: Dante hadn't told her about Lucky's relapse with drugs. Dante refused to apologize because it had been Lucky's secret to share. In time, Lulu forgave Dante, and they discussed getting married. Lulu's worst fears were realized when Dante was shot in the back while at Sonny's coffee warehouse. Lulu accepted Dante's proposal of marriage before he was rushed into surgery to remove the bullet and the lower portion of his left lung.
After Dante recovered, Lulu objected when Dante announced that he intended to return to the police force. In the end, Dante returned to work, and he was assigned a new partner, Officer Delores Padilla. Dante collapsed during his first day back, prompting Lulu to break off their engagement because Dante continued to put his life in danger. After a few weeks apart, Lulu had a change of heart.
Dante was eager to marry Lulu, and they made plans to spend the Christmas holiday in New York City. On Christmas Eve, Dante shared his memories of September 11, 2001, and explained why his work as a police officer meant so much to him. Lulu accepted his reasons, and they decided to marry immediately. Dante called his mother, and she agreed to help Dante and Lulu plan a wedding for Christmas Day.
Dante's cousin, a priest named Tommy, officiated the intimate wedding in his church, with Olivia as the only witness. Just as Tommy was about to declare Dante and Lulu man and wife, Olivia opened the church doors to welcome the entire Falconeri clan inside. After the wedding, Dante and Lulu settled into life as a married couple, and Lulu took a position at the police department, working in the evidence room. Dante enjoyed seeing his wife at work, and he was glad to see a friendship developing between Lulu and his partner, Delores.
Tensions between Dante and his father persisted. One night, following a benefit, Dante and Sonny argued in a parking garage about Sonny's decision to use the event to publicly humiliate Johnny Zacchara. Sonny sensed a sniper in the shadows and pushed Dante out of the way seconds before a shot rang out. Sonny was hit, but he took off after the shooter. Dante caught up to his father at Johnny's penthouse, where Sonny held a gun to Johnny. Dante convinced Sonny to go with him to the hospital so he could be treated for his gunshot wound. Before they left, Johnny hinted that his father might have been behind a previous attempt on Dante's life.
The mob war between Sonny and the Zaccharas escalated. Dante was caught in the middle, and on several occasions, he had to arrest his father and testify against him in court. Sonny always managed to get the charges dropped or evade conviction. In early 2013, another case began to consume Dante's attention when several dancers at a local strip club were attacked. At one point, Lulu offered to work at Vaughn's undercover, but suspicion quickly landed on Delores' husband, Eddie, when the attacker was linked to the history museum where Eddie had worked.
Dante and his fellow officer and childhood friend Ronnie Dimestico searched Delores and Eddie's apartment. When a shoebox filled with pictures of the victims turned up in their closet, Eddie was arrested. Delores insisted that her husband was innocent. Lulu speculated that someone else had been behind the attacks, and she hoped to share her theory about the attacks with Dante, but he made an impromptu visit to the Memphis police department after his mother's boyfriend Steve Webber was arrested on murder charges.
By the time Dante returned from Memphis, Lulu had vanished. Dante was shocked to learn from Luke that Lulu had suspected his friend Ronnie of the attacks. A quick visit with Ronnie confirmed Dante's worst fears; Ronnie had taken Lulu hostage. With Delores' help, Dante traced Lulu's phone to a motel in Port Charles. Dante arrived at the motel, where he encountered Llanview detective John McBain, who was there because Ronnie had also abducted Sam McCall.
Clues sent Dante and John to the Haunted Star, but only Dante made his presence known to Ronnie. He questioned his friend about why he had attacked the dancers then offered to be his hostage in exchange for letting the women go. Ronnie explained that the dancers reminded him of his former wife, who had been unfaithful to Ronnie. Ronnie also revealed that he had been the one to shoot at Dante in the parking garage when Dante had been close to linking the attacks to Ronnie. The confrontation with Ronnie ended when Dante gained the upper hand long enough to escape with Lulu. John McBain saved Sam by shooting and killing Ronnie.
After the ordeal with Ronnie, Lulu thought that she might be pregnant, but it was a false alarm. However, Dante and Lulu decided that they were ready have a baby. Their joy turned to disappointment when they learned that Lulu was unable to carry a baby to term. However, Lulu's best friend, Maxie Jones, offered to be a surrogate to help them realize their dream.
A short time later, Maxie discovered that she was pregnant. Dante and Lulu were overjoyed, but they did not know that Maxie had miscarried their embryo. Maxie was pregnant with Spinelli's child, but she was determined to give it to Dante and Lulu.
The morning after Dante and Lulu shared their first sonogram picture with a small gathering of family, Dante awoke to discover that his wife was missing. Dante, Luke, and Laura confronted Helena Cassadine then tracked Lulu to Cassadine Island. Stavros Cassadine had Lulu imprisoned in a cryogenic chamber. To Dante's horror, Lulu woke up believing that Stavros was her husband. In time, Dante's love for Lulu sparked the return of her memories.
After the birth of Dante and Lulu's daughter, Dante's cousin Connie Falconeri was murdered. Dante and Lulu decided to honor Connie's memory by naming their daughter after her. On the day of Connie's christening, lab technician Brad Cooper arrived at the church and announced that Spinelli and Maxie were Connie's biological parents. Dante and Lulu were deeply hurt by Maxie's betrayal, but they remained committed to raising Connie. However, Maxie had bonded with her daughter during the pregnancy, and Spinelli was eager to raise his daughter, so a vicious custody battle ensued.
In the end, Spinelli was awarded custody. He took his daughter, who had been named Georgie after her beloved deceased aunt, and moved to Oregon with his girlfriend to raise his daughter. Maxie was eventually permitted to have visitation with her daughter, but her relationship with Lulu had taken a heavy hit. Dante and Lulu's marriage had also been hurt because Lulu blamed Dante for not fighting harder to keep Connie.
Lulu moved out, but Dante refused to give up on his marriage. He and Lulu worked through their problems, but their marriage became strained once again when they learned that their remaining frozen embryos had accidently been destroyed. Worse, Lulu was told that she had stopped producing eggs, so any hope of biological children had vanished. However, a short time later, Liz discovered that Dante was the father of Britt Westbourne's son, Ben.
Britt confessed that her mother, Liesl Obrecht, had stolen an "anonymous" sample from the lab, which Liesl had used to impregnate Britt. It was a lie. Liesl had stolen one of Dante and Lulu's frozen embryos, which meant that Ben was Dante and Lulu's biological son. It took months before the full truth about Britt's deception was revealed, but once Dante and Lulu were united with their son, they named him Rocco and settled into life as a family of three.
Dante and Lulu agreed to drop all charges against Liesl in exchange for the remaining frozen embryo. Liesl turned it over to them, and Anna Devane had it stored in a secure WSB facility. Lulu's joy at motherhood also allowed her to forgive Maxie for everything that had happened with baby Georgie. By that time, Maxie had worked hard to turn her life around and was happily planning a wedding to her spiritual guru, Levi Dunkleman. Unfortunately for Maxie, Levi was a wolf in sheep's clothing who had targeted Maxie.
Under the orders of Victor Cassadine, Levi kidnapped Lulu and Maxie. Dante and his new partner, Nathan West raced to rescue the women, but the men were captured then taken to Creighton-Clark Clinic. While there, Stavros Cassadine was revealed to be alive. In Dante's presence, Stavros announced that Lulu would be implanted with an embryo from an egg harvested from Lulu that Stavros had fertilized. However, Dante shot and killed Stavros before he could carry out his plan.
After Dante and Lulu returned home, Dante was ordered to investigate Lulu's father, Luke, on suspicion of mob-related activities. Dante and Lulu both agreed that Luke had behaved strangely, but they believed that everything was fine after it was discovered that the man believed to be Luke had really been Cesar Faison in disguise. The real Luke had been imprisoned in a psychiatric facility for months.
However, Dante continued to believe that something was off with Luke, and he confronted him at Luke's family home. Luke pushed Dante down the stairs, hit him over the head with a crowbar, and locked him in the basement with a bomb. Nathan rescued Dante in time, but Dante was forced to tell Lulu that her father had tried to kill him. Luke had suffered dissociative identity disorder because of an abusive alcoholic father and the events surrounding Luke's mother's tragic death. Luke was forced to face his demons, and once his legal troubles were behind him, he left town to start over in Amsterdam. Eventually, Tracy Quartermaine left town and reunited with Luke.
In the summer of 2015, Dante and Lulu's marriage was tested when Lulu's ex-flame, Dillon Quartermaine, returned to town. Dante grew increasingly jealous until he convinced himself that his wife had been unfaithful with Dillon. In a fit of anger, Dante acted on his attraction to Lulu's cousin Valerie Spencer. Valerie had moved to town after her mother, Luke and Bobbie's elder sister, Patricia, had passed away. Dante and Valerie had hit it off from the beginning, and their friendship had deepened when Valerie had decided to pursue a career in law enforcement. Dante immediately regretted his one-night stand with Valerie and realized that he had been wrong about Lulu and Dillon's friendship. He and Valerie agreed to keep their secret and move on, but Valerie continued to have feelings for Dante.
By October 2015, Dante and Lulu had decided to expand their family, but the truth about Dante and Valerie's night of passion was revealed in shocking detail during a Halloween Party on the Haunted Star. Devastated, Lulu packed up and moved out of the loft with Rocco. The marriage appeared fated for divorce when Dante rekindled things with Valerie following the split. On November 30, 2015, Dante signed legal separation papers.
Lulu blamed Valerie for the destruction of her marriage, so she teamed up with Johnny Zacchara to chase Valerie out of town. Johnny took steps to discredit Valerie, and Dante confessed to Valerie that he still had hope for a future with Lulu. A few weeks later, Johnny put the final phase of his plan together, but things went awry when Valerie realized who Johnny was. Johnny abducted Valerie then took her to a remote cabin in the woods, where he tied her up then left. Fearing that she'd been left to die, Valerie desperately tried to break free. In the process, she knocked over a candle, which set the cabin ablaze.
Lulu arrived at the cabin to rendezvous with Johnny, but instead, she found her cousin in a fight for her life. Lulu rescued Valerie and saved her life, but Valerie quickly realized that Lulu and Johnny had been in cahoots. The following morning, Dante caught up with the pair. Valerie didn't waste any time sharing her suspicions with Dante. Dante conceded that he had damaged his marriage, but Lulu's actions had "obliterated it."
In January 2016, Dante filed for divorce. Valerie wished Dante well, but she had decided to break things off with him. Dante accepted Valerie's decision. Lulu was spared any legal ramifications for her actions because Johnny had taken the fall for her. Lulu used her second chance to enlist Olivia's help to win Dante back. Around that time, an arms dealer named Raj Patel appeared in town to do business with the Jeromes. One night, Lulu witnessed illegal activity on the pier from her vantage point on the Haunted Star.
Raj took Lulu hostage then tossed her overboard. Panicked, Dante dove in after Lulu and saved her from certain death. On March 4, 2016, Lulu received a finalized divorce decree. Lulu was heartbroken because her brush with death had reminded her what was important in life: Dante and Rocco. Maxie encouraged Lulu to tear up the divorce decree and go to Dante. Across town, Dante confided to Nathan that he'd been disappointed that Lulu hadn't reached out to him after her near-death experience. Dante had hoped that Lulu had been ready to work on their marriage. Later that night, Lulu arrived at the loft to talk to Dante, and the two reconciled.
In May 2016, Dante was injured, while transporting Carlos Rivera to Pentonville. Carlos stabbed Dante with a pen, forcing the van to swerve off the road. After the crash, Carlos escaped. Jason's motorcycle was forced off the road during the accident and Jason was left dazed, but he managed to save Dante's life by pulling Dante's body from under the van before it caught fire. Dante quickly recovered from his injuries.
Dante and Lulu's lives were rocked when they learned that their hopes of having more children were over because their only remaining frozen embryo was no longer viable. However, Lulu had one more opportunity at motherhood; the frozen embryo that Stavros had created during her captivity. Dante doubted that the embryo had survived the blast at Crichton-Clark, but the WSB records revealed that embryo had not been inside the freezer when it had been located after the blast. Lulu was certain that Helena had taken the embryo, and Lulu set out to locate it.
Tragedy struck in July 2016 when Valentin Cassadine murdered Lulu's beloved brother Nikolas. A few months later, in October, Dante's brother Morgan was killed in a car explosion. The bomb had been intended for Julian Jerome, but Ava had switched Morgan's bipolar medication with placebos, which had sent Morgan spiraling out of control. Morgan had stolen Julian's car, unaware that Julian's sister Olivia had ordered a henchman to plant a bomb in the vehicle.
In December 2016, Dante and Lulu's lives were once again turned upside down when Valentin Cassadine revealed that he shared a daughter with Lulu. According to Valentin, Stavros had been sterile, so Helena had hired someone to seduce Valentin and "retrieve" his sperm, which had then been used to fertilize the egg that Stavros had harvested from Lulu. A DNA test confirmed that Charlotte Cassadine was indeed Lulu and Valentin's daughter. Dante and Lulu welcomed Charlotte into their lives, but their relationship with Valentin was fraught with tension because of Valentin's role in Nikolas' murder. Further complicating matters was Valentin's wife, Nina, who resented having to share her stepdaughter because Charlotte was the only child that Nina would ever have.
For Charlotte's sake, Dante and Lulu reached an uneasy truce with Valentin because they recognized that he was a devoted father. Lulu and Nina bonded over their love for Charlotte. Professionally, Dante had a close friendship with his partner, Nathan West. They worked well together, and Nathan had fallen in love with Lulu's best friend, Maxie Jones.
In January 2017, Dante was the best man at Nathan and Maxie's wedding. The couples spent a lot of time together, and Dante and Lulu were delighted when Nathan and Maxie announced in early 2018 that they were expecting their first child. Sadly, Nathan was killed weeks later when his biological father, Cesar Faison, shot him in the heart.
In February 2018, Dante reunited with his grandfather, Mike Corbin. However, Mike was diagnosed with Alzheimer's, so their time together was fleeting. Dante introduced Mike to Rocco and made a point to spend time with Mike. Dante was also assigned a new partner, Detective Harrison Chase. Dante was slow to warm to the new detective, but, in time, they reached an understanding and began to forge a friendship.
On June 28, 2018, Dante announced that Raj Patel had surfaced. Dante had agreed to take an undercover assignment with the WSB, infiltrating Raj's organization because Dante believed that it was the only way to safeguard Lulu. Lulu was stunned, but she realized that she could not stop her husband. Dante's assignment dragged on for months, which began to put a strain on the marriage.
On November 12, 2018, Dante appeared in a "What if" episode about the first man that Sonny had been ordered to kill. In Sonny's dream, Dante had rebelled against his law-abiding Bensonhurst parents and had entered into a life of crime with the Jeromes. Dante had also been unhappily married to Sam McCall, and he was shown to eagerly choose the mob over family. The dream confirmed to Sonny that he had made the right choice when he had joined the mob and carried out Joe Scully's order to kill Vincent Marino.
In February 2019, Sonny decided to take action when he received word from the WSB that Dante's mission had left Dante stranded in Turkey without any assistance from the WSB or the United States. Sonny flew to Turkey and received help from Robert Scorpio. The two men joined forces to rescue Dante.
With the aid of a Turkish teenage pickpocket named Dev Cerci, Sonny gained access to Raj's compound where Sonny was promptly taken prisoner. Dante was unwittingly assigned to guard his father, and they quickly hatched a plan to escape the compound. Soon, Dev arrived with Robert and reinforcements. When the smoke cleared, Raj was dead and his loyal soldiers who had survived were either captured or on the run. Dante returned home with Sonny, but it quickly became clear that not all was well with Dante.
Dante bore brutal scars on his back from extensive torture, and he began to have visions of killing Lulu. He quickly realized that he might pose a danger not just to his wife, but to everyone around him, so he turned to Anna Devane for help. Anna arranged for Dante to seek treatment at a remote WSB facility in Wales that specialized in deprogramming undercover agents, and help them deal with the post-traumatic stress from the assignment. Lulu was devasted that Dante was unable to remain in Port Charles for treatment, but she had seen the scars on his back and she knew that her husband had been through a nightmare.
The distance and Dante's lack of contact began to take a toll on the marriage. In July, Maxie took matters into her own hands. Frisco Jones was in charge of the WSB, and Maxie used that connection to track Dante down to a facility in New York. Peter August accompanied Maxie, who was determined to take Dante home to his wife and children. The visit took a disastrous turn when Maxie barged into the room where Dante had been staying. Startled, Dante pulled another agent's gun then took aim at Peter. Peter collapsed from a gunshot wound to the shoulder.
After Peter was transferred to General Hospital, Lulu was furious that Maxie's stunt had set Dante's recovery back. However, Lulu realized that her husband had made the right decision in seeking treatment. A few days later, Lulu was attending her nephew's birthday party when she was served with divorce papers. Lulu refused to sign them, but she didn't contest the divorce. On August 21, 2019, Dante and Lulu were officially divorced.

Post a Comment

Share on Facebook

Tweet this

Submit Feedback