What a difference a year makes. Last year at this time, many General Hospital fans were outraged that the show had ousted Dylan Cash from the role of Michael Corinthos. After all, viewers had literally watched the young star grow up on-screen. They were skeptical that "aging" the character was a good idea.
Fast-forward to 2010, and it's the same outrage -- with just the names changed.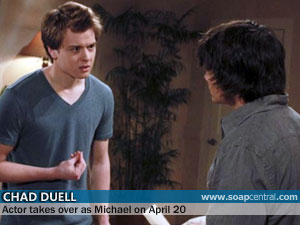 Last month, General Hospital announced that Drew Garrett had been let go from the show. The role of Michael, it revealed, would be taken over by Wizards of Waverly Place veteran Chad Duell. The reason for the recast, however, was not given. Fans immediately took to Soap Central's message boards to speak out about Garrett's ouster. Others started fan pages with the goal of convincing ABC to abandon its decision to abandon Garrett.
In an interview with WPBF, the ABC affiliate out of Garrett's hometown of Palm Beach, Florida, Garrett admitted that he was not fully aware of fan efforts to get him back on General Hospital. In spite of his ouster from the ABC soap, the young actor insists that his experience was positive.
"Whether I stayed on the show one year or four years or two years, it was a great experience regardless and a great tool for my career," Garrett said. "I'm trying to stay 100-percent confident, because you've got to in this kind of business. But it's hard not to [be positive] when you have so many people providing you so much support."
ABC has not yet released Garrett's final airdate. Duell has already begun work on General Hospital, and he will first air on April 20.
Photo: Adam Larkey/ABC
---
---