Is Brandon Buddy (Cole Thornhart) leaving One Life to Live? At this point, it's anybody's guess.
Last week, a message on the actor's official Twitter page announced that he'd decided that he'd be leaving One Life to Live, a show he's called home for nearly four years.
"It's a bittersweet day," Buddy wrote. "Today I decided I'm not going to re-sign [my contract]. No more Llanview..."
Now, all traces of that initial tweet have been removed. In its place are messages stating that Buddy's Twitter account was hacked, and that the actor has no intention of leaving One Life to Live.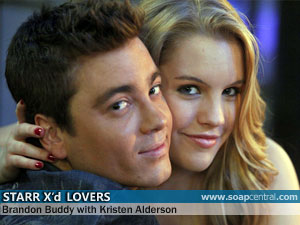 "Had a hacker," reads a message on Buddy's page. "Doing everything I can to make sure it doesn't happen again. I'm sorry for upsetting everyone. What they said wasn't true."
With so much uncertainty surrounding the is-it-or-isn't-it true nature of Buddy's tweets, some fans are left scratching their heads. How can anyone be sure that the latest posts aren't the ones posted by a hacker? Is Buddy really not leaving Llanview -- or is there something else in play?
Other fans are wondering if Buddy's tweet was a publicity stunt, made to help generate fan support during contract talks. Still another school of thought has Buddy backtracking after his tweet was spotted by network brass. If the actor was, in fact, ordered to remove his post about leaving the show, blaming a hacker provides a believable explanation for the posts.
Buddy joined the cast of One Life to Live in October 2006 as the son of one of the show's supercouples, Patrick Thornhart and Marty Saybrooke. Some fans had speculated that One Life to Live might attempt to rebuild the Thornhart family now that Emmy-nominated actor, Thorsten Kaye (ex-Patrick Thornhart; ex-Ian Thornhart, Port Charles) is no longer a member of the All My Children cast.
During his nearly four years with the show, Buddy has twice been pre-nominated for a Daytime Emmy in the Outstanding Younger Actor category.
"I have amazing followers! Thanks for all the warm wishes about me leaving the show," Buddy added. "[There is] still lots to come from Starr and Cole, though!"
A One Life to Live spokesperson notes that Buddy "remains under contract" with the show.