Robin Strasser (Dorian Lord) has agreed to re-sign with One Life to Live. The actress made the announcement on her fan hotline this evening. Though Soap Central had learned of the actress' decision to sign on the dotted line several hours earlier, the decision was made to allow Strasser to be the first to tell her fans of the news.
"My dear friends, a heart attack has been averted," Strasser cheerfully reported. "It is my pleasure to announce that I've said yes. Yes! What did I say affirmatively yes to? The whole deal of continuing to play Dorian. I can't allow it to be about money. It's paycut time. Daytime is hanging on a thread... I believe that. I get it."
Strasser's announcement ends weeks of speculation and sometimes-heated rhetoric regarding her future with One Life to Live. As previously reported, Strasser had been vocal about the network's request that she accept a lower salary. She blasted what she called a "take it or leave it" offer by ABC. Over the course of several very personal updates, Strasser admitted to having agreed to take a 63-percent reduction from her previous rate when she rejoined One Life to Live in 2003.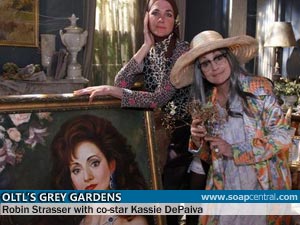 Now, Strasser is singing a different tune -- literally.
"Picture me on your TV. I'm signing the contract, yay for me. I will be with you for years to come," Strasser sang to the tune of "Tea For Two."
The impromptu musical performance was a nod to scenes that aired earlier this week on One Life to Live in which Strasser and co-star Kassie DePaiva (Blair Cramer) acted out a Llanview version of Grey Gardens.
"Screw the pay cut. Full steam ahead," Strasser roared. "It doesn't matter. Life has been very good to me. I have been very blessed. I've been diligent, I've been careful, I've been many, many things, [but] not ever the highest paid."
Strasser's re-signing was nearly overshadowed by the day's other major news story: All My Children's move from New York to Los Angeles and One Life to Live's relocation to AMC's soon-to-be-vacated studio.
Of the move, Strasser said she was "doing the happy jig" over the thought of having "superior real estate" in the form of AMC's studio.
"When I did crossover and appearances on AMC, I was ravaged with jealousy," Strasser gasped. "Their real estate is so superior. Their big building. Everybody has big dressing rooms. The hallways have windows with views of the river..."
Strasser also took time out to wish the cast and crew of All My Children well in the transition to their new home out West. For more on All My Children and One Life to Live's moves, click here.
Strasser joined One Life to Live in 1979. In 1987, she left to pursue other ventures, but she returned to Llanview six years later. In 2000, Strasser left One Life to Live amid a much-publicized dust-up with then-executive producer Jill Farren Phelps. Strasser then took on the recurring role of Hecuba, a 300-year-old witch, on NBC's Passions. In April 2003, Strasser announced that she was "delighted" to be returning to One Life to Live.
Photo: Dan J Kroll/Soap Central
---
---