Sean Kanan (Deacon Sharpe) has once again found himself the subject of Internet gossip. The actor, who last year had tongues wagging when a warrant for his arrest was issued, has come out swinging over reports that he has been fired from The Young and the Restless because of alcohol abuse.
The gossip grew from a report by Soap Opera Weekly that Kanan had been let go by the top-rated CBS soap, a claim that Kanan has since on gone on record to deny.
"[The Young and the Restless] scripted a short-term storyline for me with a beginning, middle and end to test the waters and gauge viewer reaction to Deacon," Kanan told TVGuide Canada in an exclusive interview. "[Y&R executive producer] Paul Rauch assures me that I'm still on the show because my entry into Genoa City has been very successful from all angles. Deacon may be off for a while until the writers have time to pen me a bigger storyline."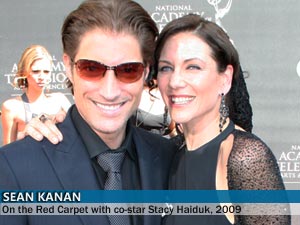 Once the report of Kanan's "firing" became public, some fans took it upon themselves to speculate about why the actor was let go. For unknown reasons, several visitors on The Young and the Restless' official messages boards at Sony and CBS claimed that Kanan was fired because he had "fallen off the wagon" and reported to work intoxicated. Kanan vehemently denies the anonymous posters' claims
"I'm livid," Kanan responded. "My family, friends and eight-year-old daughter reads these message boards. These accusations are libelous - and not true. I've worked my Goliath ass off to be sober, so I resent these anonymous posters trying to ruin my career. I'm proud that I'm sober, so for them to state otherwise is just astounding and cruel. I'm just a father trying to make a living here, people."
Kanan's battle with alcohol has been a public one. The actor was convicted on DUI charges in 1998. In August 2007, Kanan was arrested and charged with a second DUI offense. The actor was fined nearly $2000 and ordered to spend four days in jail. The jail time, however, was suspended pending successful completion of probation and alcohol education.
Since that time, Kanan has maintained his sobriety. At this year's Daytime Emmys, Kanan talked to Soap Central about being back on daytime.
"It feels great to be back doing what I love to do. It's also a lot of fun for me because I had worked right across the hall for the better part for five years from the Y&R people, so I knew a lot of them to say hi as friends, but I had never worked with any of them," Kanan explained. "It's a whole new group of people and characters to interact with with no previous history. It's a brand new start for me."
Kanan debuted on The Young and the Restless on July 10. He appeared previously as Deacon on Y&R's sister soap, The Bold and the Beautiful, from 2000 to 2005. The actor's first daytime role was as AJ Quartermaine on ABC's General Hospital, a role he played from 1993 to 1997.