The new trend on soap operas seems to be the arrival of big-name movie stars. In June, actress Sean Young will join the cast of The Young and the Restless. It will mark Young's first foray into the world of daytime drama.
On The Young and the Restless, Young will play the role of Maggie, a sultry barmaid who ends up involved in a mystery with Victor Newman.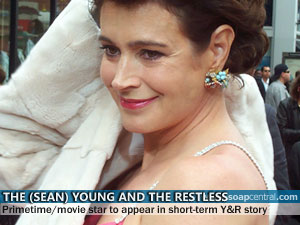 "Getting the chance to work with my dear friend Eric Braeden (Victor Newman), one of the true gentlemen in entertainment, was certainly a deciding factor for me," the 50-year-old Young told People magazine, "as well as wanting to get back to work after taking a few years off to raise my kids."
This is not the first time that Young and Braeden have worked together. They both appeared in the 2007 Civil War drama, The Man Who Came Back, in which Braeden starred and served as executive producer.
Earlier this year, Academy Award-nominated actress Julianne Moore returned to As the World Turns, the soap on which she got her first big break. Last year, James Franco appeared in a story arc on General Hospital.
In related casting news, last week, David Hasselhoff announced that he'd be reprising his role as Snapper Foster on Y&R sometime in June.
A first airdate for Young has not yet been announced.