Eileen Davidson (Ashley Abbott) is returning to Genoa City. CBS has confirmed that Davidson will be back on the CBS soap as part of Y&R's 40th anniversary celebration.
"BIG Welcome Back to @eileen_davidson," CBS's Senior Vice President of Daytime, Angelica McDaniel, announced on Twitter shortly after reports of Davidson being spotted on the CBS lot surfaced.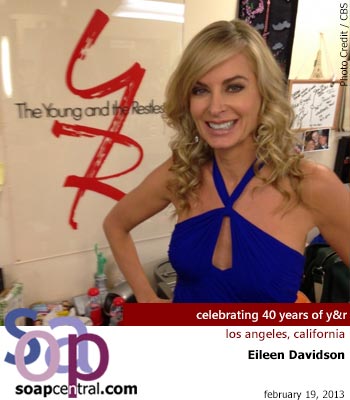 In May 2012, Davidson was let go from The Young and the Restless, but the actress was quickly re-signed to Days of our Lives. Both soaps are co-owned by Sony Pictures.
There had been plans to allow Davidson to appear simultaneously on both Y&R and DAYS, but those discussions quickly broke down. This time around, Davidson was made available to The Young and the Restless for a short-term appearance in conjunction with the show's 40th anniversary. Some fans are hoping that this special situation could result in more "crossover" appearances for Davidson in the future.
Davidson originated the role of Y&R's Ashley in 1982. In a surprise move in 2006, Davidson was cut from the Y&R cast. Shortly thereafter, however, Y&R's sister soap, The Bold and the Beautiful, reached out to Davidson, and the actress moved her character from Genoa City to Los Angeles. In 2008, Davidson headed back to The Young and Restless.
Davidson began her run on Days of our Lives as Kristen Blake in 1993. Over the next five years, she also played Susan Banks, and Susan's three siblings, Sister Mary Moira Banks, Thomas Banks, and Penelope Kent.
The multiple roles helped earn Davidson an Outstanding Lead Actress nod at the 1998 Daytime Emmys.
Davidson will appear on Y&R on Monday, March 18 and Tuesday, March 19. Davidson will also continue to air on Days of our Lives.