Marge Catrooke
Deceased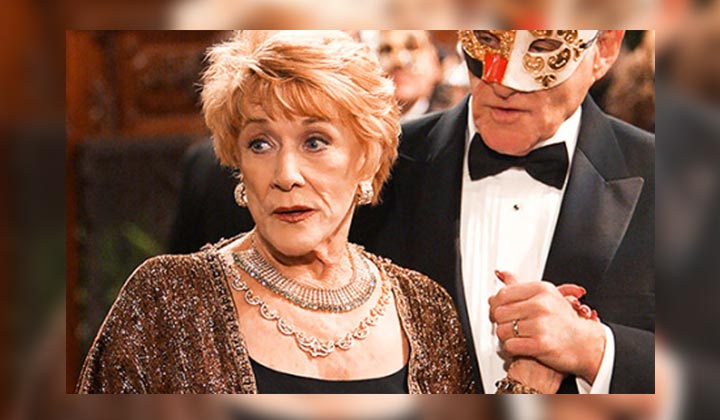 Jeanne Cooper played a dual role of Katherine and her doppelganger Marge
Died November 7, 2008
None
Waitress at Joe's Diner at time of death
Murphy's trailer house at time of death
Single
Unknown
Unknown
Unknown
Unknown, but had a criminal record
Conspirator to kidnap Katherine Chancellor in 1989; was not charged due to Katherine's intervention
In 1988, Jill found a bum on a park bench, cleaned him up, named him Rex Sterling, and paid him to romance Kay Chancellor. Rex was really Brian Romalotti, the ex-con father of Danny and Gina. What started out as a trick, ended up a wonderful romance. Kay found out who he was, but loved him so, she didn't care. They were married, and Rex signed a pre-nuptial to show his trustworthiness. Then Rex's former cellmate, Clint Radison, found a woman named Marge Catrooke working at a diner, who was a dead ringer for Kay. He and his cohorts Morey and Lil who went to work for Kay as houseman Robert and maid Shirley, trained Marge to pass for Kay, then held captive Kay and her "ditsy" maid Esther. Meanwhile Marge sold Chancellor Industries, drove Rex away, and he filed for divorce, intending to marry Jill. Clint was now free to liquidate the rest of Kay's assets. But Kay's son Brock made a surprise return from his missions in India. Brock, with the help of Mitchell Sherman, discovered the ruse, and rescued Kay and Esther, who was pregnant by a one-night stand with Tiny the Plumber. Marge got to know Kay and also tried to help her to get away. Clint and his cohorts went to prison, but Marge was released as an innocent dupe, thanks to Katherine's intervention. Kay and Rex were reunited and re-married, and would have lived happily ever after if it were not for Esther's poor choice in men. Esther answered a personal ad and met con man Norman Peterson who ended up shooting and killing Rex as he caught Norman cracking Katherine's safe.
Many years later in 2008, Katherine Chancellor began having some recurring memory loss, but was covering it up pretty well. Kay was contacted by Marge who had become an alcoholic herself, asking Kay for help. Marge had lost her room in a boarding house when she couldn't pay the rent, and was about to lose her job at the diner. Kay got $75,000 in cash from the bank to get Marge into rehab, but on her way she left the bag with the money at Crimson Lights, and Kevin, unable to catch her, kept it in his safe. Jill and a Chancellor lawyer forced Kay to get checked out for her memory problems. While waiting for the doctor, Kay showed Nikki how bad she gets by referring to Nikki's dead husband David as though he were still alive. After seeing the doctor, Kay talked them into giving her another day to check into the hospital so that she could secretly help Marge, then she disappeared. Jeffrey spotted Marge drunk and assumed it was Kay. He convinced Gloria, Nikki and Esther that Kay was drinking again. Actually Kay was driving Marge to rehab, but they were in a bad car accident on the way. Kay was thrown clear, but Marge was found dead in the car by Nikki and Jill who were out looking for Kay. Not knowing about Marge's reappearance, they assumed it was Kay's body. A funeral was held, and the ghost of Marge looked on, impressed that so many people were attending her funeral, and wondering how Murphy could afford one that grand. When she noticed that several people from Kay's past attended; her son Brock, her late grandson Phillip's wife Nina, her step-son and daughter Danny and Gina, her attorney Mitchell, and her old friends Liz Foster, Traci and Ashley, and Dina Mergeron, Marge realized that they thought that the body in the casket was Katherine. So Marge left, went back to the accident scene, and found Kay where she had been thrown from the car. Marge promised Kay she would somehow get her some help. Later Kay was found by Marge's friend Murphy lying by the creek near the accident.
It was six months later before Katherine got her memory and her own life back, then she and Murphy held a memorial service for Marge at Joe's diner.

Post a Comment

Share on Facebook

Tweet this

Submit Feedback