Sally Spectra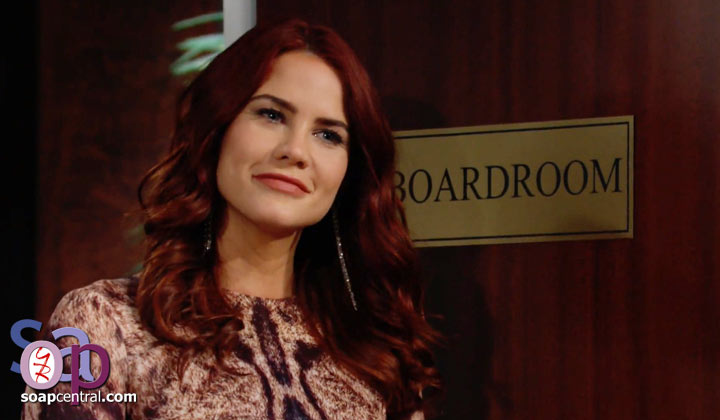 Courtney Hope
Executive assistant to Lauren Fenmore at Fenmore's
Former designer at Forrester Creations
Proposed lead designer for the never-formed Spencer Fashions
Former designer and part owner of Spectra Fashions
Worked at a bakery in Florida
Genoa City, Wisconsin
Formerly a beach house in Malibu, CA
Formerly New York City
Formerly roomed in a Hollywood, CA apartment with sister Coco Spectra, Apt. 314
Formerly Florida
Single
None known
Coco Spectra (sister)
Shirley Spectra (grandmother)
Sally Spectra (great-aunt)
Macy Alexander (first cousin, once removed; deceased)
Clarke "C.J." Garrison (first cousin, once removed)
None known
Liam Cooper Spencer (kissed)
Wyatt Fuller Spencer (broken engagement)
Started a food fight with Steffy Forrester [2017]
Complicit in installing a hidden camera in Coco Spectra's necklace to steal Forrester designs [2017]
Arrested for grand larceny and industrial espionage [2017]
Kissed a married Liam Spencer [2017]
Shot at Bill Spencer [2018]
Pulled a gun on Wyatt Spencer [2018]
Accused of cyberbullying Hope Logan [2018]
Faked a death sentence to win Wyatt Spencer back from Flo Fulton [2020]
Kidnapped Flo Fulton [2020]
Fell into Australia's Manly Harbour [2017]
Hospitalized for minor smoke inhalation [2017]
Caught in the demolition of Spectra Fashions and trapped in its wreckage [2017]
Sustained minor injuries and irritation from breathing rubble dust [2017]
Saw a doctor for stress-related issues [2020]
Briefly knocked out by Flo Fulton [2020]
Lost consciousness due to a panic attack [2020]
Sally Spectra is the heretofore unknown namesake grand-niece of Sally Spectra, whose fashion design house Spectra Fashions was a one-time competitor and imitator of the upscale Forrester Creations. In Los Angeles on the directive of her infamous great-aunt, who wanted Sally to revive Spectra Fashions, Sally talked its owner, cousin C.J. Garrison, into giving her six months to reboot the business. Fledgling designer Sally took out a loan and recruited her grandmother, Shirley Spectra, along with Saul Feinberg, the grandson of Spectra's original tailor, Saul Feinberg, and receptionist Darlita to help launch her first collection, but Sally had trouble attracting the attention of the fashion press.
Meeting Forrester designer Thomas Forrester and seeing how his sister, Steffy Forrester, was a social media darling, Sally started a food fight with Steffy at a restaurant and got Shirley to film it. After the video went viral, Sally argued with Thomas over the quality of her designs and was surprised when he silenced her with a kiss. Anxious to capitalize on her newfound notoriety, Sally crashed the wedding of Thomas' cousin, Zende Forrester Dominguez, disguised as a caterer; Sally honored Thomas' gentle warning to leave, but before she could, she was caught by Steffy, who shoved Sally's face into a cake. Sally got one fashion reporter to attend her début showing and was devastated by his especially vicious review.
Sally had mixed feelings about having her newly-arrived sister, Coco Spectra, spy at Forrester, which the first Sally Spectra was notorious for. At Shirley's insistence, Sally gave Coco a necklace to celebrate her first day as an intern, knowing Saul had installed a tiny camera in it without Coco's knowledge. Sally told Saul how she and Coco had lived a nomadic life with their shady parents on the carnival circuit and been raised by Shirley after they went to jail. When Thomas said he would have taken her to Steffy's Australian wedding as his date, Sally jumped at the chance but hesitated when Shirley ordered her to take clandestine photos of Steffy at the altar for them to post on social media.
Sally watched Steffy breeze into her wedding on a zip line and did indeed take photos, but lied to Shirley that she hadn't after spending more time with Thomas. Sally tried to placate Steffy, who was infuriated by Sally's presence, but during the argument Sally fell into Sydney's Manly Harbour; Sally was happy when Thomas jumped in after her and kissed her.
Having lost confidence in her own design abilities, Sally reluctantly put Forrester's stolen designs into production, using Thomas having an infant son with socialite Caroline Spencer as an excuse for dumping him. Sally reveled in Spectra's successful showing but paid the price when Thomas and Coco turned their backs on her for appropriating Forrester's collection. Sally confessed to grand larceny and industrial espionage to keep Coco from having to testify and faced up to 15 years in prison until Thomas spoke to the judge at her preliminary hearing. Sally couldn't believe it when Thomas invested $100,000 in Spectra to keep C.J. from selling it to publishing magnate Bill Spencer, who wanted to replace Spectra with a skyscraper; Sally was stunned to learn that Bill had written her scathing review to get his hands on Spectra. Sally felt bad that Thomas lost his design job at Forrester for helping her, but after they affirmed their feelings for each other, they finally made love.
Sally happily installed Thomas as Spectra's lead designer but had to assure Steffy that she wasn't simply using her brother to breathe life into the underdog design house. Sally excitedly concurred with Thomas' idea for Spectra to get in on Forrester's swimsuit showing in Monte Carlo. Sally vacillated between confidence and insecurity as she and Thomas whipped up a swimwear line, leaning toward the latter when Caroline came back to town with Thomas' toddler son, Douglas Forrester.
Sally worried when Thomas seemed distracted during the Forrester/Spectra fashion duel in Monte Carlo, later finding out from him that Caroline was dying; Sally tearfully bid Thomas goodbye as he left town to be with Caroline and Douglas as a family. Sally kept the true reason for Thomas' departure from her coworkers but confided in Caroline's cousin, Liam Spencer, who was writing an honest article about her for Spencer Publications. Despite doubting she could produce a line on her own, Sally pulled off a preview that was marred only by a small fire that broke out from a faulty electrical socket.
The night before her make-or-break fashion show, Sally returned to Spectra only to find it burning to the ground; she suffered minor smoke inhalation that prevented her from saving her collection. Sally was thrilled when Thomas came rushing back to see her, but sobbed when he revealed that he wasn't staying. Sally offered Steffy her surviving designs and was ready to leave town until Liam announced he had taken over at Spencer and bought the burned-out Spectra from C.J.; Sally couldn't believe it when Liam transferred ownership to her. Now having collateral, Sally began rebuilding Spectra, this time to code, promising to pay Liam back and giving him her first post-fire design. Having agreed to keep Liam's involvement a secret, Sally gave her confused family and staff no answers about how their latest rise from the ashes was possible.
Sally became further impressed with Liam, especially when he staged a sit-in to keep his father from demolishing Spectra, which it turned out he still owned. Sally became trapped in the rubble with Liam when Bill blew up the building prematurely; thinking she was going to die, Sally admitted she loved Liam and kissed him. Sally was rescued by Steffy and refused Bill's conciliatory offer to finance Spectra's relocation and fresh start. Sally spoke to Coco about her feelings for Liam but was surprised to learn Liam had renewed his vows with Steffy, who had been upset to learn about Sally kissing her husband.
With the effort to rebuild Spectra on hold, Sally discovered Liam had walked out on Steffy; Sally went to visit Steffy but ran into Liam's other ex, Hope Logan, with whom an unspoken rivalry sparked. Sally let a tight-lipped Liam know that he had a friend in her and that she was also willing to be more than that if things didn't work out between Liam and Steffy.
Sally became enraged when Bill reneged on his promise to restore Spectra and shot a hole in Bill's prized model of the tower Bill was building in Spectra's place. Sally became a suspect when Bill was shot in the back and was flabbergasted when Thomas returned from New York, having discovered that Caroline being at death's door was all a scheme of Bill's to lure Thomas away from Sally. Overjoyed that Thomas wanted to take her, Shirley, Saul, and Darlita back to New York with him and start up a Big Apple version of Spectra Fashions, Sally reunited with Thomas but was warned by the police not to leave town until the investigation into Bill's shooting wrapped up.
Sally returned from New York again having been dumped by Thomas for Caroline; Sally was bitter and had no place to stay. Running into Liam's brother, Wyatt Spencer, in a bar, a drunken Sally reluctantly accepted his offer to bunk on his couch but pulled a gun on him over his connection to Bill, whom she blamed for ruining her life. Sally relented, and, after she sobered up, she began to spend time with Wyatt and entered into a new romance with him. Sally still had a chip on her shoulder when Wyatt got her hired at Forrester; Sally clashed with Hope when she learned she wouldn't be allowed to design. Sally found herself fired when threats were posted on Forrester's Hope for the Future web site that were traced to Sally's laptop. Sally pleaded innocence and soon learned the cyberbullying was being done by Zoe Buckingham, an artist Wyatt had hired to paint a mural who had purposely used Sally's laptop without her knowledge to post the messages.
Sally was blown away when she got the opportunity to be the lead designer for Intimates, Steffy's lingerie line. Sally also thrilled when Wyatt admitted he was in love with her; Sally reciprocated his feelings. Eventually, Wyatt revealed Bill had asked him to return to Spencer Publications; Sally was touched when Wyatt said he wouldn't unless Bill agreed to revive Spectra Fashions to make up for destroying her career. Sally was raring to go until Bill said his only caveat was that the new fashion house be named Spencer Fashions; Sally decided it wasn't worth arguing over the name and took her place as its head designer.
Sally had a change of heart about leaving Forrester when Ridge offered her a better deal after her new line of athletic wear received a celebrity endorsement. Sally initially greeted Wyatt's high school sweetheart, Florence Fulton, with open arms, but became jealous when Wyatt wanted to spend time with her. Trying to take the high road when Thomas came home with Douglas after Caroline's sudden death, Sally forgave Thomas and let him confide his desire to create a family with Hope, whose baby had arrived stillborn. Though Sally disagreed with Thomas' ploy and his manipulative tactics, she agreed to keep quiet until Wyatt confronted her, convinced she and Thomas were having an affair. When Wyatt blasted her for keeping Thomas' secret, Sally moved out to give Wyatt space, despite being aware that Wyatt's mother, Quinn Fuller, was lobbying for Wyatt to reunite with Flo.
Later, Sally reeled when Wyatt came to her and revealed Flo had been part of a cover-up started by obstetrician Reese Buckingham, who stole Hope's baby, switched it with a dead one, and used money from its adoption to pay gambling debts. Sally appreciated Wyatt's apology for the way he dumped her; though Sally insisted Wyatt couldn't just come crawling back to her, Sally did a double take as Wyatt dropped to his knees and proposed. Sally accepted and couldn't help rubbing her engagement in Flo's face.
Before long, for reasons even she couldn't explain, Sally slipped and called Wyatt "Liam". When that led to Wyatt leaving her for Flo again, Sally began trembling uncontrollably and had a doctor run tests, only to be told she had a month to live. Sally found comfort in Wyatt's other ex, Katie Logan, a heart and kidney transplant recipient who had been on death's door several times; Sally accepted Katie's offer of friendship and swore Katie to secrecy. When Wyatt asked her to reunite and move in, and Forrester Creations pushed her designs into their couture line after expressing concerns they were subpar, Sally began to suspect that Katie had blabbed about her diagnosis despite Katie's denials.
Sally brushed off her physician, Dr. Penny Escobar, who kept insisting Sally tell the truth about her illness. In front of Penny, Sally finally admitted to Wyatt she was dying, but privately, Sally and Penny argued over Sally's plot to pretend she was dying to win Wyatt back from Flo. Sally used a walker and theatrical makeup to appear sicker; Sally told Wyatt she'd only get treatment if he came back to her. Sally was soon confronted by Flo, who had gotten into Sally's medical records; Sally confessed she wasn't dying. Sally was horrified when Flo's attempt to call Wyatt was stopped by Penny, who cracked Flo over the head with a candlestick; Sally and Penny managed to drag the unconscious Flo away as Wyatt was coming in the front door.
Sally regretted kidnapping Flo and tying her to a radiator, but not enough to step up her plans and get pregnant by Wyatt. Sally lost consciousness briefly after being tripped by Flo; when she went to Wyatt's to seduce him, she was horrified to see Flo had written 'Äúhelp'ÄĚ on her underwear while she was knocked, which gave Sally away. After confessing, collapsing from a panic attack, and being read the riot act by Wyatt, Flo, and Katie, Sally agreed with Wyatt's contention that she should leave town.
A few months later, Sally turned up in Genoa City, Wisconsin, and immediately became the executive assistant to family friend Lauren Fenmore for Lauren's chain of department stores. But Sally had her eye on running the Jabot Collective and looked for a way to oust likely candidate Summer Newman from the running.

Post a Comment

Share on Facebook

Tweet this

Submit Feedback