Colleen Dion (Felicia Forrester) has returned to The Bold and the Beautiful. Dion announced her returning to Soap Opera Central as she sneaked up the Red Carpet at this year's Daytime Emmys.
The Bold and the Beautiful's supervising producer Rhonda Friedman says that Dion's returning ushers in the show's renewed focus on its core family - the Forresters.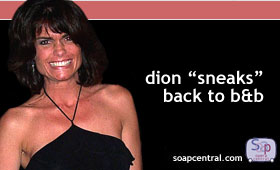 "We're going to see a reinvention of the Forresters," revealed Friedman. "There will be fashion shows, and they will once again be front-and-center."
Indeed, the Forrester family took a back set as recent B&B storylines revolved around two new families - the Marones and the Ramirezes. Friedman explained that it was important to establish and develop the two new families to help revitalize the show and provide new story opportunities.
During the fleshing out of the storylines involving the Marone and Ramirez families, some nervous fans speculated that it might be a foreshadowing of the demise of the Forrester family on the show. With several high profiled actors leaving and rumors that others were on the way out, rumors began to circulate.
Dion originated the role of Felicia in 1990. Since that time, she has appeared on a host of other soaps, with memorable roles on All My Children, As the World Turns and Guiding Light.
Show insiders expected show execs to recast the role of Felicia, so it came as quite a surprise that Dion was headed back to the show. As she walked along the Red Carpet at his year's Emmys, Dion mused that she was "sneaking [around] to see if anyone recognizes me."
Dion begins airing in July.