Keating, Brown Returning to PC
By
Dan J Kroll

Posted Sunday, April 14, 2002 6:49:46 PM
Two veteran soap performers will make encore appearances on Port Charles during the "Superstition" book.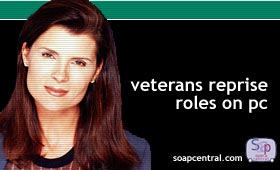 Charles Keating (James Ritchfield) returns this week as the evil - and supposedly deceased - former underling to Caleb Morley. The Emmy award winning Keating has spoken out repeatedly in praise of Port Charles for allowing performers to come and go as storylines dictate. This will mark the actor's third stint on the show.
Also returning is Kimberlin Brown (Rachel Locke). Like Keating, this will be the actress' third appearance in Port Charles. Brown originally aired from July 1999 through November 2000, but she made a brief cameo in 2001. This time around, Brown's stint will again be limited. Brown makes her first return appearance on April 29th.
---