It's a case of yet another change being forced upon the daytime community in the wake of the terrorist attacks on September 11th. Due to growing concerns over the possibility of anthrax being sent through the mail, ABC has instituted some security measures concerning its mailroom and mail delivery to its stars.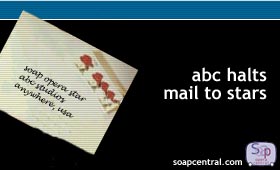 Postal mail sent to stars of All My Children, General Hospital, One Life to Live, Port Charles and The View will not be delivered to their addressees. This is being done for the protection of the stars. Therefore, fans are being asked not to send regular mail to the studios because these letters may never reach their intended recipients. Since some soap fans include gifts, crafts and other handiwork in their letters, several stars have expressed a desire to ask fans not to send any packages because their gifts might end up in the trash.
Fans are encouraged to use email to send their letters to the stars. To send email messages to stars of ABC programming ONLY, direct your email to netaudr@abc.com.
A spokesperson for Procter and Gamble, which produces As The World Turns and Guiding Light, states that neither studio is accepting fan mail at this time.
At press time, other networks were still deciding how to handle the growing concerns about anthrax-tainted messages being delivered to the stars.
• SPECIAL REPORT: HOW THE ATTACKS HAVE CHANGED THE SOAPS
• GH SCRAPS BIOTOXIN STORYLINE
• PORT CHARLES SCRAPS TERRORISM STORYLINE
• B&B CANCELS EUROPEAN PHOTO SHOOT
• Y&R STAR'S EMERGENCY LANDING
---