JR Martinez (Brot Monroe) was crowned the winner of the 13th installment of ABC's reality competition, Dancing With the Stars. Martinez became the second soap star to take home the coveted mirror ball trophy.
Martinez and his professional partner, Karina Smirnoff, had to come from behind to win. They were tied for second place after the first night of competition. The pair combined for 54 out of a possible 60 points after two dances. Talk show host Ricki Lake also scored 54 points. Reality personality Rob Kardashian led the night with 57 points.
Viewers were then able to call in and vote for their favorite dancers. The viewer votes would then be combined with the judges' scores to determine the winner.
On the live results show, the couples danced a final dance for more scores from the judges. Lake finished first, with Martinez in second, and Kardashian in third.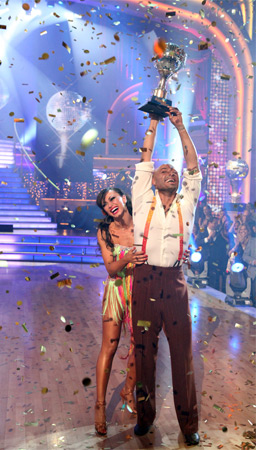 After the dance, Ricki Lake was revealed to have finished in third place overall, and she was asked to leave the dancefloor.
Martinez and Kardashian and their partners were then given about 15 minutes to prepare a samba routine. That dance would then be performed for another set of judges' scores. Both dancers earned perfect scores -- 30 out of 30.
Interpersed between results and dancing, the show's other stars -- who had been voted out one by one all season -- were invited back to performer a final dance. Pop star Chynna Phillips, of the 90s girl group Wilson Phillips, was able to make good on a dance that she'd botched earlier in the season. Fashion guru Carson Kresley performed a sure-to-go-viral dance to Madonna's "Vogue."
Throughout the season, Martinez earned support not only for his stellar dance moves, but for being an inspiration to anyone who has had to face a seemingly insurmountable challenge in life.
In April 2003, at 19 years old, Martinez was serving as a Humvee driver for the U.S. Army in Iraq when his left front tire hit a landmine. He suffered smoke inhalation and severe burns to more than 40 percent of his body. Martinez spent 34 months in recovery, and he has undergone 33 different surgeries, including skin grafts and cosmetic surgery.
While in recovery, he started speaking to other burn patients within the hospital, sharing his experiences and listening to theirs. News of his story and efforts to help others quickly spread, first on a local level and then to national circuits. Martinez continues to balance his motivational speaking engagements and charity work with his acting. He is also busy working on his memoir.
"I just want people to take away that no matter what war or battle you are fighting, through positive thinking, through a positive attitude you can overcome," Martinez said when asked what he hoped people would take away from his appearance on Dancing. "I think that all of us up here [...] are going to push ourselves beyond what we thought was possible."
Martinez made his professional acting debut on All My Children in November 2008. The show incorporated portions of Martinez's real life into its fictional storylines.
"JR represents the best of the human spirit. His commitment to help his fellow service men and women and their families has inspired us all. JR's challenging journey and resilience will bring a uniquely authentic perspective to the role of Brot Monroe," AMC's executive producer Julie Hanan Carruthers said in a statement at the time.
Every week, Martinez's former All My Children co-stars appeared in the audience to root him on. Carruthers appeared in the audience on the night Martinez was named the winner.
Three of Martinez's All My Children cast members have previously appeared on Dancing with the Stars. In 2007, Cameron Mathison (Ryan Lavery) competed in the show's fifth season, finishing in fifth place. One year later, Susan Lucci (Erica Kane) competed, and finished in seventh place. In 2010, Aiden Turner (Aidan Devane) took part in the competition, and landed in ninth place overall.
It isn't just All My Children stars that have salsaed their way through Dancing with the Stars. Former Days of our Lives star Lisa Rinna (ex-Billie Reed) and The Bold and the Beautiful veteran Mario Lopez (Christian Ramirez) have also taken part in the competition. General Hospital's Kelly Monaco (Sam McCall) is the only other soap star to have won the competition. Monaco took home the show's mirror ball trophy in the very first season back in 2005.