One of the most frequently asked questions surrounding All My Children's Martin family -- other than "What happened to Bobby Martin when he went to the attic to get his skiis?" -- is "Whatever happened to the original Ruth Martin, Mary Fickett?"
For the better part of three decades, Emmy Award-winning actress Mary Fickett (Ruth Martin) appeared as one half of Pine Valley's moral compass, the loving Joe and Ruth Martin. In 1996, Fickett suddenly disappeared and a redheaded, former Miss America, Lee Meriwether, assumed the role of Ruth. Fans worried that the actress had taken ill, been fired, or something far worse. For many, there was no way that Catwoman could ever replace the "real" Ruth Martin.
In reality, Fickett had expressed a desire to take a break from the daily rigors of filming a soap opera. While Ruth was no longer the focal point of the show's storylines, Fickett still reported to work on a regular basis. Thirty years, five episodes a week... it made sense that the actress might want to step out of the spotlight and enjoy time with her family.
Now, Fickett lives in Colonial Beach, Virginia, with her daughter Bronwyn "Anne" Congdon. A fire last year destroyed many of Fickett's personal mementos, including photographs, letters, and countless other memories. Now 80, Fickett is confided to her bed, her memory is fading, and she occasionally has trouble finishing sentences, but Fickett still fondly recalls her life as a television star.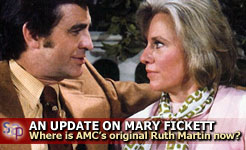 In 1973, Mary Fickett became the first performer in television history to receive an Emmy Award for their work on a daytime soap opera. In somewhat of an odd coincidence, the times were very much as they are today. The Vietnam War raged on and by the end of 1971, more than 56,000 Americans had died in the war. Public opinion polls showed that the majority of Americans were against the war and protests against the war were commonplace. With its commitment to telling contemporary social issues, All My Children crafted a story that explored the feelings about the Vietnam War in small-town Pine Valley, Pennsylvania.
"Aggie [Agnes Nixon, All My Children's creator and then-head writer] wrote the storyline for me," Fickett told the Fredericksburg Free Lance-Star. "I felt very strongly about doing it. I stood up and said, 'I want to do this.' She said, 'Let's go with it.' She wanted only me to do it."
Now, in 2008, America is involved in yet another unpopular war. While the death toll of the war is nowhere near that of the Vietnam War, most Americans have very strong opinions about the war. In the upcoming weeks, AMC's new head writer, Charles Pratt, Jr., will craft a potential love story between a soldier that fought in Iraq, Taylor Thompson (played by newcomer Beth Ehlers), and the anti-war Jake Martin (Ricky Paull Goldin).
Sadly, Fickett says that she has lost touch with many of her former All My Children stars. Fickett doesn't watch All My Children any more, but she flipped past the show recently and was amazed to see her former castmate Susan Lucci (Erica Kane) looking good in a prison jumpsuit. Fickett and Lucci, along with Ray MacDonnell (Joe Martin) all appeared in the very first episode of All My Children in January 1970. Fickett cannot recall the last time that she and Lucci saw each other.
"It's a big world. It's hard to keep up with people. You lose track," Fickett commented.
Though All My Children fans lost track of Fickett after her final AMC appearance in 2000, she will forever remain in their hearts as a part of their television family.
If you would like to send a letter or card to Mary Fickett, please send them to:
Mary Fickett
C/O Soap Central
PO Box 516
Philadelphia, PA 19105-0516