As many All My Children fans have suspected, it looks like Greenlee Smythe didn't perish in a motorcycle crash earlier this year. ABC has confirmed the return of Rebecca Budig (Greenlee Smythe) to the show. Budig's return is the first high-profile signing brought about by the show's impending move to Los Angeles.
Budig, a two-time Daytime Emmy nominee, first joined the cast of All My Children in August 1999. The actress remained with the show through 2005 when she relocated to the West Coast with her husband, former Bachelor contestant Bob Guiney. Two years later, after Budig rebuffed requests to return to the show on a long-term contract, All My Children opted to recast the role of Greenlee, placing soap newcomer Sabine Singh in the role.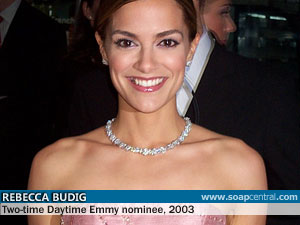 Reaction to the recast was mixed. Many of Budig's fans were not pleased that the role was recast. Other AMC viewers, however, took to Singh's portrayal, noting that a new actress playing Greenlee allowed the writers to take the character in a new direction. Ultimately, Budig was convinced to return to the show -- and Singh was quickly cut loose. The unrecast became controversial when the network ran ads touting the return of "the real Greenlee" to the show. Singh's fans were incensed.
Budig's return, however, was only short-term. 13 months after Budig's return to the ABC soap, Greenlee was presumed dead following a motorcycle accident on what was to have been her wedding day. Shortly thereafter, David Hayward, Greenlee's former brother-in-law, was revealed to be tending to a mystery patient somewhere in Gloucester, Massachusetts. The identity of the patient prompted much speculation among fans.
During her time at All My Children, Budig has twice earned Outstanding Supporting Actress nominations at the Daytime Emmys. Prior to joining AMC, Budig enjoyed a three-year run as Michelle Bauer on CBS's Guiding Light.
Budig will fly to New York to tape scenes before the show packs up and moves to California. Budig will first air on December 23.
Photo Credit: Dan J Kroll/Soap Central