Though initially unconfirmed by the network, Soap Central first reported last week that Sabine Singh (Greenlee Smythe) and ABC's All My Children have parted ways -- and a Internet blog posting claims the parting was less than amicable. Singh joined the show earlier this year in the role of Greenlee. Her firing leads the way for the role to be recast -- with a very familiar face.
Rebecca Budig is returning to AMC. What are your thoughts on the news?

I'm disappointed. I really like the new angle that Singh has brought.
53%
To me Rebecca is Greenlee, so I am ecstatic that she is coming back.
43%
I really don't care for Greenlee, so I would rather see her written out.
2%
I'm torn. I actually like both actresses in the role of Greenlee.
1%
Other
0%
I have no opinion about the changes being made to Greenlee.
0%
I loved Budig as Greenlee, but I don't want to see her return to AMC.
0%
Poll Posted: December 12, 2007
Singh has been slow to win over fans, many of whom did not want All My Children to recast the role of Greenlee. Fans have been slow to accept Singh as Greenlee and many have been overly critical of the actress. The reaction is very much like fan reaction to
General Hospital
's decision to recast the role of
Carly Corinthos
with actress Jennifer Bransford
in April 2005
.
With Singh out, Rebecca Budig will return to the show after the Christmas break. Budig left the show in 2005 to pursue other opportunities and move to the West Coast. During her six-year run on All My Children, Budig tallied two Daytime Emmy nominations in the Outstanding Supporting Actress category 2001 and 2003.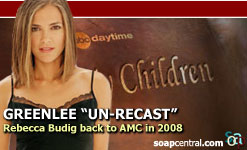 "Sabine was fired!" says a note on a MySpace page claiming affiliation with Singh's fan club. "She was given a week to leave quietly and told that Rebecca was coming back. Supposedly [Brian] Frons had been in talks with [Budig] since before Thanksgiving, this is why [Singh] was invited to SSW then had her invitation taken from her. The cast just found out yesterday and they are all in shock. Sabine herself didn't even see it coming, for months [show execs] kept telling her how amazing she was and she should look forward to another contract after her four years were up, and then BAM!"
Since leaving All My Children, Budig has made several guest appearances on primetime television. This month, the actress landed a two-episode guest-starring gig as a stripper who met with an untimely end on the top-rated CBS drama, CSI: Crime Scene Investigation.
"It just sort of worked out, the timing and everything," says Budig of her return to All My Children. "My life is in L.A. right now, and there's a lot of things that they did to make this easier for me. [ABC Daytime president] Brian Frons knows how to make things look really good!"
Budig joined All My Children in August 1999 following a three-year run as Michelle Bauer on the long-running CBS soap Guiding Light
"We are giving the fans what they've been asking for - Rebecca returns as Greenlee," said Brian Frons, president, Daytime, Disney-ABC Television Group. "Fans can look forward to Greenlee's storyline developing around her business, her friendships and her love life."
ABC has now begun running advertisements touting Budig's return as "the real Greenlee is back." Budig praises Singh's work, but hints that the Greenlee of old will be back once she steps back into the role.
"I think [Sabine] brought in a different perspective on the character," Budig stated. "Obviously, I played this character for six years and I have a different take on Greenlee. But I think she did a great job!
It should be noted, however, that in a published interview earlier this year, Singh revealed that show execs encouraged her not to watch old scenes involving Greenlee because they wanted her to put her own spin on the character.
Budig taped her first episode on December 19. Those scenes are set to air on January 16.