B&B gives up on Hershey-Presley... for now
According to show insiders, execs at The Bold and the Beautiful have now decided to abandon their pursuit of actress Erin Hershey Presley.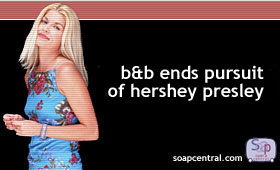 As reported by Soap Central in March and again last month, B&B reportedly wanted to sign the actress to play opposite her former Port Charles love interest Brian Gaskill (Oscar Marone).
Though there is no official comment, a show insider tells Soap Opera Central that things changed when Gaskill opted to be taken off contract. Gaskill's contract change goes into effect later this month.
In a recent interview, B&B's head writer and executive producer Bradley Bell stated that there is nothing immediately planned for Hershey on the show. Bell also denied that he had wanted Presley to assume the role of Bridget Forrester.
Meanwhile, Presley awaits word on a pilot that she filmed for the fall season. Though the series was not picked up for the regular fall season, it is still possible that it will hit the air as a mid-season replacement. And as for a future gig on B&B, Bell hints that anything is possible.