What can you say about a man who wears women's lingerie? Apparently quite a lot, according to The Bold and the Beautiful's head writer and executive producer, Bradley Bell. In a new interview, actor Rick Hearst (Whipple Jones) explained that Bell's vision for his B&B alter ego was one of the things that enticed the actor back to the CBS soap.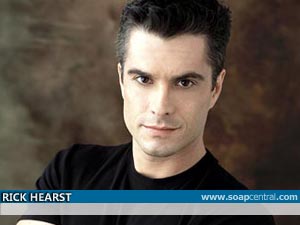 "I literally said, 'If it's cute and peppy for awhile, that's great.' People have to get to know this guy again," Hearst told Michael Fairman for Michael Fairman on Soaps. "If you bring Whip in with ulterior motives and what not, you will push the audience away. Brad is very smart that way. We want to see that Whip is a fun-loving guy and irreverent. Do you want to smack him someday? Sure. That is better than hating his guts."
As for who might be Whip's next romantic interest, Hearst says that "the canvas is wide open" with possibilities.
"I think this is a great time for me to be back on B&B," Hearst added. "The canvas has shifted a bit. There are some great new people for me to work with. There is vibrancy in the cast, and not a lot of people have left the cast since I was here last time around."
In a previous interview, Hearst offered a simple explanation for his return to B&B: he wanted to work. When General Hospital dropped Hearst to recurring status, it meant that he would not be working on a regular basis. The Bold and the Beautiful's offer, however, meant that he would be receiving a regular paycheck.
Hearst made his return to The Bold and the Beautiful on July 17. He previously appeared on the show from February to August 2002.
For the entire interview, click here.
---
---