The revolving dressing room door continues to spin for Days of our Lives star Bryan Dattilo (Lucas Roberts). After being written off the show's canvas for the summer, Dattilo will again see on-air action by the early fall.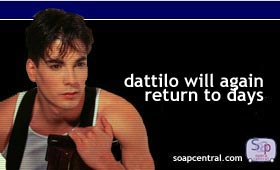 Dattilo joined the cast of Days of our Lives in 1993 and remained on contract with the show through March 2001. At that time, some behind-the-scenes changes resulted in Dattilo being dropped to recurring status. The actor then returned in February 2002 before again being written out last month.
On the personal side, Dattilo faced charges of disorderly conduct after an incident at a strip club in May. Those charges were subsequently dropped.
Dattilo will return to the screen in September.