Long-time soap opera veteran Stuart Damon (ex-Alan Quartermaine, General Hospital; ex-Ralph Manzo, As the World Turns) has landed another daytime gig. The Emmy-winning actor is headed to the only network where he's yet to have appeared on a soap -- NBC. There, the actor will appear as Governor Ford on Days of our Lives.
Soaps In Depth was the first to report on rumors of Damon's addition to the cast.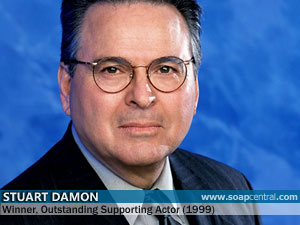 Damon appeared for 30 years on General Hospital before being cut loose in early 2007. Though the actor's screen time had been cut dramatically before his ouster, fans were still surprised by the ABC soap's decision to lose a major character from a core family. Possibly realizing that letting Damon go was a mistake, the show's writers developed a storyline that allowed Damon to appear as a figment of his sister's imagination for a couple of months.
Damon won an Outstanding Supporting Actor trophy at the Daytime Emmys in 1999. He received previous nominations in 1982, 1983, 1984, 1991, 1996, and 1997.
Tongues wagged when Damon signed on to appear as mobster Ralph Manzo on CBS's As the World Turns. Though his run was designed only to be short-term, Damon impressed fans and talk again began about a possible return to General Hospital.
Though Days of our Lives' fictional setting of Salem isn't quite GH's Port Charles, Damon will find some familiar faces when he starts work. Wally Kurth (Justin Kiriakis), who played Damon's on-screen nephew, Ned Ashton, for more than a decade, has been back on Days of our Lives since August 2009.
A first airdate for Damon has not yet been announced. A Days of our Lives spokesperson had no comment about Damon's addition to the cast.
RELATED STORY:
Judi Evans returning as Days of our Lives' Adrienne Kiriakis

• Click here for the full story
--->
---
---