Well it looks like Adrienne is finally headed back to Salem. Judi Evans (Adrienne Kiriakis) will reprise the role of Adrienne Kiriakis on Days of our Lives this spring. The actress' return comes months after DAYS fans were shocked that another soap had signed the Emmy-winning actress to a short-term contract.
Evans got her daytime start as Beth Raines on Guiding Light. She won an Outstanding Supporting Actress Emmy for her work on the show in 1984. Upon leaving Guiding Light, Evans joined the cast of Days of our Lives in 1987. With actor Wally Kurth (Justin Kiriakis), Evans quickly became one-half of one of the show's most popular couples. Evans exited DAYS in 1991 and moved to another NBC soap, the Procter & Gamble-produced Another World. There, Evans played Paulina Cory for eight years.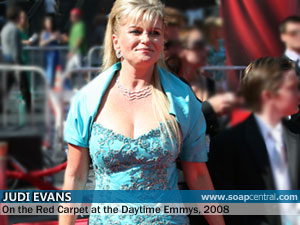 Before returning to Days of our Lives in 2003, Evans took time out to appear in the made-for-television movie, Getting Away with Murder: The JonBenet Ramsey Mystery.
When she did rejoin the DAYS roster in 2003, Evans was cast as a newly created character, Bonnie Lockhart. Evans played Bonnie for four years because making another exit from the show. In May 2007 -- just two months after she was written out as Bonnie -- Evans stepped back into the show as Adrienne. Her last appearance as Adrienne was in January 2008.
Evans has been nominated for an Emmy for both of her Days of our Lives roles. She received a nod for her work as Adrienne in 1988. 20 years later, she earned a nomination as Bonnie.
Kurth's return to DAYS in August 2009 had many soap fans thinking that Evans would be right behind him. They were stunned when As the World Turns announced that it had reached an agreement to have Evans appear as Maeve Stone. Evans' run last only a couple of months and she last aired in October 2009.
This will mark the first time that Evans and Kurth have worked together in nearly 20 years. A first airdate for Evans has not yet been announced.
RELATED STORY:
Emmy-winning former General Hospital star, Stuart Damon, joining the cast of Days of our Lives

• Click here for the full story
Photo: Dan J Kroll/Soap Central
---
---