Jeannie "Theresa" Donovan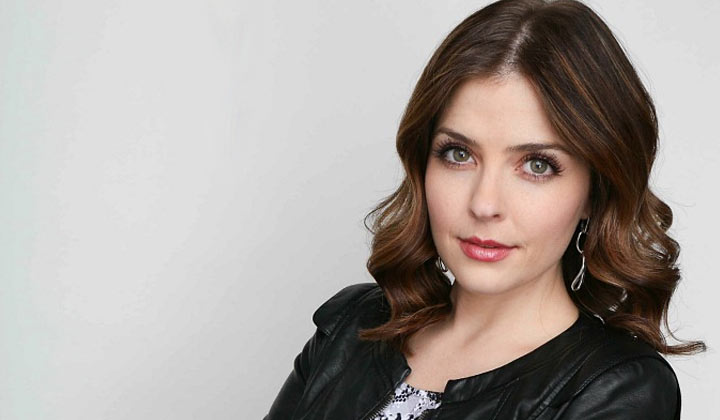 Hannah Taylor Simmons
1990 – 1991
Emily and Alicia Pillatzke
1991 - 1992
Caitlin Wachs
1992
Gabriella Massari
1992
Born on September 3, 1990
Jeannie Theresa Donovan (full name)
Theresa (started going by her middle name in 2013)
Named for Shane's mother Margaret, who was nicknamed Jeannie
General assistant at Salem University Hospital (February 2014 - present)
Former PR assistant at Salem University Hospital (July 2013 - February 2014)
Apartment #542 in Salem (July 2013 to present)
Formerly in California
Single
Brady Black (Married July 10, 2014; Annulled September 2, 2014)
Shane Donovan (father)
Kimberly Brady (mother)
Andrew Donovan IV (brother)
Eve Donovan (paternal half-sister)
Andrew Donovan II (paternal grandfather)
Margaret Donovan (paternal grandmother)
Shawn Brady (maternal grandfather; deceased)
Caroline Brady (maternal grandmother)
Pete Brady (maternal great-grandfather; deceased)
Patrick Aloysius Brady (maternal great-great-grandfather; deceased)
Nora Molly Brady (maternal great-great-grandfather; deceased)
Andrew Donovan III (paternal uncle)
Roman Brady (maternal uncle)
Kayla Brady (maternal aunt)
Frankie Brady (maternal uncle; via adoption)
Maxwell Brady (maternal uncle; via adoption)
Bo Brady (maternal half-uncle)
Paige Larson (paternal niece)
Carrie Brady (maternal cousin)
Samantha Brady (maternal cousin)
Eric Brady (maternal cousin)
Rex Brady (maternal cousin)
Cassie Brady (maternal cousin)
Stephanie Johnson (maternal cousin)
Joey Johnson (maternal cousin)
Shawn-Douglas Brady (maternal half-cousin)
Chelsea Brady (maternal half-cousin)
Zack Brady (maternal half-cousin; deceased)
Ciara Brady (maternal half-cousin)
Eric Brady (maternal great-uncle)
Colleen Brady (maternal great-aunt; deceased)
Molly Brady (maternal great-aunt)
Colin Murphy (maternal first cousin once removed; deceased)
Ryan (maternal first cousin once removed; deceased)
Will Horton (maternal first cousin once removed)
Johnny DiMera (maternal first cousin once removed)
Allie Horton (maternal first cousin once removed)
Sydney DiMera (maternal first cousin once removed)
Claire Brady (maternal first half-cousin once removed)
Arianna Grace Horton (maternal first cousin once removed)
Tate Black (son, with Brady - embryo stollen and carried by Kristen)
Clint (dated/lovers)
Paul Narita (flirtation/kissed)
Brady Black (dated/lovers)
Vargas (one date)
Daniel Jonas (she pursued him, he turned her down)
J.J. Deveraux (flirtation/kissed)
Numerous flings and affairs, some with married men, while in California (not shown on screen)
Stole a car (Not shown on screen - prior to July 2013)
DUI (Not shown on screen - prior to July 2013)
Fighting (Not shown on screen - prior to July 2013)
Possession of drug paraphernalia (Not shown on screen - prior to July 2013)
Possession of cocaine (Not shown on screen - prior to July 2013)
Fraud (Not shown on screen - prior to July 2013)
Drug purchase and use (Unknown - November 2013)
Breaking and entering/Theft - Broke into Vargas's apartment and stole money (August 2013)
Embezzled money from the hospital's PR discretionary fund (September 2013)
Blackmailed J.J. Deveraux into buying drugs for her and feeding her information about Daniel (December 2013)
Hired a guy to produce a fake hospital ID that identified Theresa as Abigail (January 2014)
Embezzled money from the hospital by trying to purchase cash gift cards with hospital money (February 2014)
Accessory to assault - Gave Liam Fraizer the key to Daniel's apartment, Liam used it to enter the apartment and poison Daniel Jonas (April 2014)
Drug purchase and use (May 2014)
Assault- Hit John over the head with a fire poker (July 2014)
Obstruction of justice - told police that it was Brady who hit John in self-defense (July 2014)
Threw away hospital employee W2s (January 2015)
Hospitalized after a drug overdose [Nov 2013]
Originally thought to be Cal Winter's daughter, blood tests proved Jeannie to be Shane's daughter. Jeannie lived with her mother in California.
In July 2013, Jeannie arrived back in Salem. However, she had started going by her middle name, Theresa. After overhearing J.J. and his friend Rory discuss their marijuana stash, Theresa approach J.J. and started flirting with him in hopes that he would share some of the drugs with her. The two continued their flirtation, despite both their age difference and an unpleasant run-in with Jennifer at the Horton house. Theresa became one of J.J.'s customers as well, buying marijuana and requesting cocaine from him.
Both were shocked to find themselves in Jennifer's office one day. J.J. was there to see his mom. Theresa was there to start her new job as a PR assistant at Salem U Hospital. Kayla explained that Theresa was her nice, whom Jennifer had agreed to hire as a favor to Kayla. Jennifer was not pleased to find out that she'd hired the woman she found with her underage son earlier in the week. But Theresa insisted that they were just friends and that she liked older men.
The statement proved to be true when Theresa took an interest in Daniel Jonas. She tried to flirt with him, but he did not return her advances. She briefly flirted with Nick Fallon, but changed her mind when she heard that he might not have any money. Finally, she set her sights on Vargas.
Vargas and Theresa went on a date to the opening of Club TBD in Salem. She arrived at his house to pick him up and saw him taking money for the night out of a coffee can in the kitchen. She learned that he had been in prison, but was not phased. He had some cocaine for the night which the two shared at the club. But, when Vargas got a little too high, Theresa started flirting with a handsome stranger. Vargas saw them and started a fight with the man. Vargas was arrested and sent back to jail. But before he went, he told Hope that the cocaine in his pocked belonged to Theresa Donovan.
Hope went to Theresa and confronted her with the news. She also told Theresa that she knew about Theresa's arrest record in California. Hope asked Theresa to go to rehab, but Theresa refused. Instead, Theresa embezzled money from the hospital's PR discretionary fund to cover some of her drug expenses. Jennifer found the check and fired Theresa on the spot.
Determined to pay Jennifer back for costing her a job, Theresa set her sights on Jennifer's ex, Daniel. Theresa worked the rumor mill at the hospital to spread the word that Daniel was sleeping with Theresa. However, in reality, Daniel had turned down Theresa's advances cold because he was still in love with Jennifer. Hurt by Daniel's rejection, Theresa turned her attention to Jennifer's son, J.J.
Theresa invited J.J. over to her apartment. The two drank and smoked marijuana together. They started to kiss and Theresa suggested that the take ecstasy before having sex. J.J. didn't want to take his does, so Theresa drank it on top of her own. She passed out. J.J. grabbed her phone and saw that the last call she made was to Daniel. So, he called Daniel for help.
Daniel arrived and told J.J. to sneak out so that no one would see him. (J.J. was currently on probation from a judge and if he was caught with drugs, he'd go to prison.) Then, Daniel took Theresa into the shower to wake her up and called 911. He rode with her to the hospital to see that she would recover from his overdose. When Theresa woke up, she said that she couldn't remember anything that happened surrounding her overdose.
The entire Brady family was worried about Theresa. Shane and Kimberly flew back from California to see her. They were worried that leaving Theresa in Salem was a bad idea. Theresa swore that she'd changed and was done with drugs and lying. Shane and Kimberly believed her and left her with their blessing to stay in Salem.
Theresa seemingly took steps to make herself better, including talking to Maggie about attending NA and apologizing to Daniel. But the truth was that Theresa remembered everything that happened that night and was just pretending to have amnesia in order to drive a wedge between Jennifer and Daniel, thus making Jennifer's life worse.
When J.J. finally confessed to Theresa that he was the one who was with her the night that she overdosed, she laughed at him and told him that she was faking all along. J.J. was furious with her and wanted to tell everyone that it wasn't Daniel with her when she overdosed. But, Theresa showed J.J. a video she made that night of J.J. smoking weed. She threatened to send the video to the judge if J.J. didn't do exactly what she said. (J.J. was on probation, awaiting a formal sentencing from assault and disturbing the peace charges.) So, she send J.J. on various errands to get drugs for her.
To keep up the ruse of someone who had overdosed and was trying to change, Theresa started attending AA meetings. She met Brady Black there, and the two immediately butted heads. But, eventually, their relationship turned flirtatious. Theresa could tell that Brady wasn't serious about AA, so the two would meet to drink together. Theresa was drawn to Brady and jealous of his rich lifestyle.
J.J. knew that he needed to do something to stop Theresa. So, he arranged for her to find a hospital check that was made out to Abigail. Theresa hired a guy to produce a fake hospital ID that identified Theresa as Abigail. Theresa took the check and her fake ID to an office supply store and bought debit gift cards, claiming they were for an employee incentive program. As the clerk grabbed the debit gift cards and rang them up for her, J.J. entered the store, surprising Theresa. He informed her that the clerk was actually a friend of his and her whole scheme was caught on the store's security cameras. He told her that they were even -- she couldn't release the video she had of him without him releasing the one he had of her. Theresa was furious.
Theresa blamed Brady for her lapse in judgement. She'd been so enamored with his wealth that she'd let her own guard down. But, that didn't stop her from pursuing a romantic relationship with Brady. She also kept sights on getting revenge on Jennifer, through Daniel.
She tried to play the victim card with Daniel, asking him to please tell her what happened the night he overdosed. But, Daniel kept pushing her away. She stole his keys from his locker one day and made a copy of his house key. She didn't know how, but she thought it would come in handy.
Worried that his mom and Daniel were still not back together because everyone thought that Daniel had slept with Theresa, J.J. decided to come clean. He told him mom everything, including that Daniel had been covering for him this whole time. Theresa went to Daniel and gave him one last chance to sleep with her before she released the tape of J.J. But, J.J. arrived at Daniel's apartment just in time and told Daniel about the video he had of Theresa. Daniel kicked Theresa out of his apartment and told her to stay away from him, J.J., and Jennifer.
When an embarrassing fake photo of Jennifer circulated around the hospital and unflattering comments about her flooded the hospital message board, Daniel and Jennifer assumed that it was Theresa. But, Theresa turned her attention towards Brady. She liked that her relationship with Brady bothered Maggie, Jennifer, and Daniel. Soon, she grew fond of Brady too, enough to turn down Liam Frazer's advances when he seemed to take an interest in her. But, one day at lunch with Liam, a picture of Jennifer fell out of his wallet. Theresa knew right away that Liam was obsessed with Jennifer and was behind the recent photos and messages.
Theresa ran to find Daniel to tell him about Liam. But, when Daniel found her, he didn't let her speak and immediately accused Theresa of sending the photos and messages. Theresa tried to tell him otherwise, but Daniel wouldn't listen. He threatened to have her fired from the hospital. Furious, Theresa went back to Liam and offered him the key to Daniel's apartment. Liam took it.
A few days later, Daniel arrived at the hospital to perform a surgery. But, a few minutes into surgery, Daniel had to leave. He collapsed and was hospitalized. Toxicology reports showed that he was high on opiates. Daniel was put on temporary suspension, per hospital policy, while the investigation took place. Daniel and Jennifer immediately suspected Theresa. Theresa knew that Liam was behind it.
Theresa tried to do damage control, begging Brady to believe her that she had nothing to do with what happened to Daniel. Brady said that he wanted to believe her, but if he found out otherwise, she'd be sorry. Brady agreed to help Jennifer find out what happened to Daniel. To do so, he told Theresa that he had to stop drinking and seeing her. Theresa was crushed.
Liam eventually followed Jennifer out to Smith Island and held her captive. While he ended up dying in the struggle, Liam did confess to Jennifer that he'd been behind the pictures, message boards, and drugging Daniel. Since Anne was the only person who knew that Theresa gave Liam the key to Daniel's apartment, Theresa thought that she was in the clear. She frequently reminded Brady, Daniel, and Jennifer that they were wrong to accuse her of drugging Daniel. She and Brady resumed their relationship.
All of Brady's family told him that a relationship with Theresa was a bad idea. But, he kept spending his time with her, engaging in heavy partying that included cocaine. Eventually, he told Theresa that he wanted more from their relationship. Theresa was thrilled because this meant her plan to get his money would be easier.
The two of them took a private jet to Vegas. Brady drank heavily and Theresa had to carry him out of the casino. As a passed-out Brady and Theresa flew home on the Titan jet, Theresa looked down at the new weddings rings on their hands.
Thrilled that she had finally landed Brady for good, Theresa and Brady flew back to Salem. John met them at the Kiriakis mansion and was irate to see Theresa there with a ring on her finger. He knew that Brady would get the marriage annulled once he sobered up and yelled at Theresa for being a disappointment to her family. But Theresa told John that for $1 million, she'd walk away from Brady. However, John had been recording their whole conversation. Theresa knew that John's tape would mean that Brady would get the annulment. So, she grabbed a fire poker from the fire place and struck John over the head.
She knocked John out cold and he fell to the floor. In a panic, she dragged John's body next to Brady's passed-out body, wiped her prints off the fire poker, and put the poker in Brady's hands. Then, she screamed for Henderson, who saw the scene and called 911. Theresa told the police that John was attacking Brady and Brady swung back in self defense. When Brady awoke in a hospital room, she told Brady the same story. He was horrified that he had hurt his father.
John was more than hurt. He was in a coma. The doctors had no idea when or if he would come out of it. Brady started going back to NA meetings and told Theresa that they needed to annul their marriage. He said that he needed to get his life back together.
He tried to fly in doctors to look at John's case, but they all said that it was hopeless. But, around the same time, Kristen was captured and brought back to town. She told Marlena that in exchange for Eric refusing to testify against her, she would produce a doctor with a new formula that would save John. But, she didn't want Brady to know about the offer. Marlena agreed and, reluctantly, so did Eric.
Brady was horrified to see Kristen in town. He told her to stay away from John. And, even though he told her that he wanted space, Brady returned to Theresa for comfort to forget about Kristen. Theresa thought there was hope that they'd reunite. Brady wasn't ready for anything serious with Theresa, but she kept moving forward.
The only thing that could stop her is if John woke up. And thanks to Kristen's drug, he did. However, when he woke up and learned that Kristen was in town, he went along with Theresa's story so that she would still be an obstacle in Kristen's path to Brady. But he warned Theresa that if she hurt Brady, he'd tell him everything.
But, Kristen beat John to it. Kristen noticed Theresa acting strange each time someone mentioned John coming out of the coma. So, she planted a recording device in Anne's purse and captures a conversation between Anne and Theresa where Theresa confessed to hitting John. Then, Kristen played the recording for Brady.
Brady didn't believe her at first and went to talk to John. Outside of John's room, Brady heard John and Theresa talking about the night of John's attack. He was furious and confronted them both. John told the truth but Theresa continued to deny it. She swore that Kristen doctored the recording.
Theresa tried repeatedly to get Brady to listen to her, but he refused. The one thing she wasn't telling him was that she was pregnant. She told Anne the news and Kristen overheard. Knowing that she'd lost Brady for good, Kristen had Theresa kidnapped and hired doctors that transferred the embryo Theresa was carrying into Kristen. Then, Kristen left town with Brady and Theresa's baby. Theresa had no memory of that night.
But Theresa was adamant that Brady listen to her. So, she told him that she was pregnant and agreed to a pregnancy test to prove it. However, the test showed that Theresa wasn't pregnant. Almost everyone thought Theresa had made it up. Brady was furious with her, but he conceded that she probably did really believe that she was pregnant. Still, they were through.
To take her mind off Brady, Theresa decided to go out drinking with Anne. That night, Theresa met a man named Clint. She found him mysterious. But mostly, she needed someone to take her mind off Brady. So, Clint and Theresa began sleeping together.
However, their meeting was no accident. Kristen had sent Clint to make sure that Theresa never got her memory back of the night that her embryo was stolen. Clint would report back to Dr. Mandrake after dates with Theresa.
Brady moved on as well, with Melanie Jonas. Melanie and Theresa did not get along, but Melanie did overhear Clint talking on the phone with Dr. Mandrake about Theresa. So, Melanie started investigating.
It turned out that Kristen DiMera hired Clint to keep track of Theresa and make sure that she never remembered what happened the night Kristen stole Theresa's embryo. So, Clint would report back to Dr. Mandrake, who performed the procedure on Theresa, after each date with her. Mandrake ordered Clint to get blood samples from Theresa and Brady to see if either was a bone marrow match for the baby. Clint drugged them both and took vials of blood. Melanie caught Clint leaving Theresa's apartment with the blood. Her suspicion grew even more. Melanie enlisted Nicole's help to investigate Dr. Mandrake. They confirmed that Mandrake was a fertility specialist. It didn't take Melanie long to figure out that Theresa could have been pregnant and Kristen stole the baby.
Mandrake ordered Clint to get blood samples from Theresa and Brady to see if either was a bone marrow match for the baby. Clint drugged them both and took vials of blood. He returned the blood to Kristen for testing. It turns out that Theresa was a match. So, Clint returned to Salem to bring Theresa to Italy
He told her that he had come into a bunch of money and wanted to take her on an grand vacation. Theresa believed him and went along. But, as soon as they got to Kristen's castle in Italy, Theresa was drugged and taken to prep for the transfer. There, Theresa saw her son for the first time. Instantly, she felt a connection. Mandrake had a syringe to sedate Theresa. But, she struggled with him and was able to stick him with the syringe instead.
While Mandrake took Theresa, Clint went down to the basement to watch Brady and Melanie, who had showed up at the castle and taken prisoner. But, Brady and Melanie had managed to loosen their restraints. Brady and Clint struggled over the gun. It went off. And Clint fell to the ground dead.
They all rushed to the living room just in time to see Marlena and Kristen struggling over a gun . Then, Kristen fell out the window. The Italian police soon arrived. They knew Kristen fell, but they could not find her body. So, they could not charge anyone with a crime. The group returned home to Salem. Brady and Theresa renamed the baby Tate.

Post a Comment

Share on Facebook

Tweet this

Submit Feedback