On November 8, Days of our Lives marks an impressive milestone --- 35 years of sand flowing through the instantly recognizable hourglass.
When Days of our Lives debuted in 1965, few may have thought that the soap opera would wind its way through to a new millennium. But Days of our Lives has done just that --- and provided numerous memories during its run.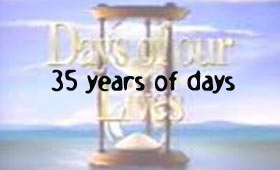 In 1975, Days addressed interracial relationships when David Banning fell for Valerie Grant, an African-American.
In 1977, Marlena's twin, Samantha, appeared and locked Marlena in a mental hospital. She then showed up in Salem and attempted to take over her sister's life.
In 1982, The Salem Strangler killed Samantha, thinking that he was killing Marlena. 18 years later, Andrea Hall-Gengler, Deidre Hall's (Marlena) real-life twin sister, returned to Days as Hattie, another Marlena look-alike.
In 1995, Marlena was possessed by the devil, a storyline that drew huge ratings but made some question the believability of soap opera storylines.
On Wednesday, November 8, NBC will air a very special edition of Days of our Lives to commemorate the show's 35th anniversary. The episode will feature special flashbacks and many memories. NBC also promises that the episode will feature "limited commercial interruption," meaning that there will be more show and less commercials.