The 38TH ANNUAL DAYTIME EMMY AWARDS
Why Michael Park wasn't in Las Vegas
by
Dan J Kroll

Posted Monday, June 20, 2011 12:52:47 AM


Why wasn't Michael Park in Las Vegas to accept his second consecutive Daytime Emmy in the Outstanding Lead Actor category? This video may just offer an explanation.
EMMY VIDEO: ON THE RED CARPET

Michael Park
Jack Snyder, ATWT

Kristian Alfonso and Peter Reckell
Bo and Hope, DAYS

Daniel Goddard
Cane Ashby, Y&R

Wally Kurth
Justin Kiriakis, DAYS

Stephen Nichols and Pat Sajak
Tucker, Y&R/Patch, DAYS
and Wheel of Fortune host

Scott and Melissa Reeves
Steven, GH, and Jennifer, DAYS
More Red Carpet videos are on the way... keep checking back!

Marcy Rylan
Abby Carlton, Y&R
EMMY VIDEO: BACKSTAGE

Heather Tom
Katie Logan, B&B

Jonathan Jackson
Lucky Spencer, GH

Brittany Allen
Marissa Tasker, AMC

Scott Clifton
Liam Cooper, B&B

Laura Wright
Carly Jacks, GH

Maria Arena Bell
Executive producer and
head writer, Y&R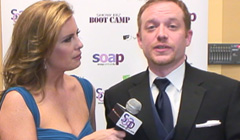 Tom Casiello
Writer, Y&R
Interviews with Y&R writer Tom Casiello, B&B exec Brad Bell, and Shemar Moore are on the way. Keep checking back!
Share this story with friends, family or the world.

SEND TO A FRIEND
Email this article to a friend.

PRINTABLE VERSION
View a printer friendly version of this article
---