When a General Hospital star's name is announced as the first Emmy recipient of the evening, you have to get a feeling that things are going to go pretty well.
Sarah Brown took home her very first Daytime Emmy award for Outstanding Supporting Actress in a Drama Series. If you're scratching your head thinking that you've seen her on stage receiving an Emmy in year's past, you're absolutely correct. Brown has won two other Daytime Emmys in 1997 and 1998, both for Outstanding Younger Actress.
After Brown's win, however, General Hospital's win streak seemed to hit a wall. The next three drama series acting awards were all given to performers of The Young and the Restless. The CBS soap appeared destined to make good on its record-setting 28 Emmy nominations.
Though not nominated in the Outstanding Younger Actress category, many insiders had felt certain that General Hospital would be victorious in either the Outstanding Supporting Actor or Outstanding Younger Actor fields --- if not both.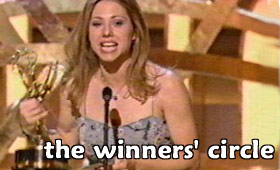 Steve Burton (Jason) and Jonathan Jackson (Lucky) were nominated in the Supporting and Younger Actor categories, respectively. Ironically, both performers are no longer with the West Coast-based soap opera. For one reason or another, Emmy voters love to reward performers who have left a particular role or a particular program. Neither Burton nor Jackson, previous Emmy Award winners, were victorious on the night. Instead, first-time winners from The Young and the Restless took home the awards.
It's been almost two decades since General Hospital was last awarded with a prize for Outstanding Directing in a Drama Series. That all changed this year as General Hospital picked up its third win in ten nominations in the category. Those two previous wins came back in 1981 and 1982. Among the nominees in the field was Sunset Beach, the NBC soap that ended its two-year run back in December 1999. This was Sunset Beach's first nomination in the category.
The five men in the Outstanding Lead Actor field are all familiar faces to Emmy viewers; all were nominated last year and all are previous Emmy winners. Anthony Geary won this year's honors for his portrayal of Luke Spencer. It was Geary's second consecutive win and his third overall.
As the Emmy telecast threatened to run over its two-hour time allotment, General Hospital was named Outstanding Drama Series. Win the win, General Hospital set a new record for the most wins by a single program in the Outstanding Drama Series category. If you like to keep track, General Hospital earned top honors in 1981, 1984, 1995 through 1997 and 1999.
Let it not be forgotten that the Emmy are not just about who wins and who loses: It's a night to celebrate all that is good in daytime television. Several stars of General Hospital who were not nominated were present on center stage at Radio City Music Hall to hand out awards to other performers.
Jackie Zeman wore a lovely charcoal dress with spaghetti straps. Her hair pulled back, the outfit accentuated a beautiful, yet simple, necklace she'd selected. Her co-presenter, A Martinez, however, continued a misguided trend among the men of ABC Daytime. Martinez sported a white shirt that was not buttoned all the way and lacked the requisite tie or bow tie. All My Children's John Callahan (Edmund) also opted for this style.
---