Theo Hoffman
Deceased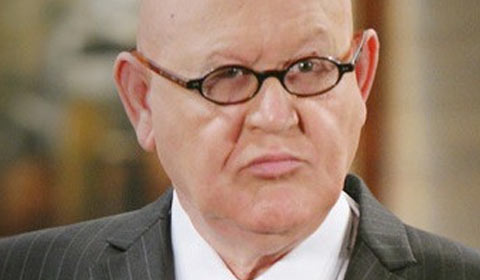 Daniel Benzali
Died on March 30, 2011 after his wife Suzanne Stanwyck slit his throat
The Balkan
International crime lord
Attorney
Cave compound in Port Charles at the time of death
Formerly Metro Court Hotel
Formerly Europe
Married to Suzanne Stanwyck at the time of his death [Married: 1976]
Unknown
Unknown
Aleksander Janacek (deceased)
Unnamed grandson (Aleksander's son with Brenda Barrett, presumed alive)
Unknown
Numerous unknown crimes during his years as an international crime lord
Sent his minions to disfigure, drug, torture, and kidnap Brenda Barrett [Summer 2010]
Hired Jerry Jacks to pose as the Balkan [Dec 2010]
Arranged to have Jerry Jacks killed [Dec 2010]
Sent assassin Anton Banovic to kill Jason Morgan and kidnap Brenda Barrett [Dec 2010]
Hired mercenary Shawn Butler to kidnap Brenda Barrett on her wedding day [Jan 2011]
Drugged, kidnapped, and imprisoned Brenda Barrett [Feb 2011]
Drugged and kidnapped Sam, and put her body in a limousine that exploded [Feb 2011]
Shot Sean Donely with a bullet laced with Polonium 210 [revealed Aug 2013]
Suffers from hypochondria; spent time at General Hospital undergoing tests [Dec 2010]
Theo Hoffman first appeared in Port Charles when he checked into General Hospital, complaining about a number of vague symptoms. Theo was certain that he suffered from a serious illness that would prove to be fatal if left untreated. The doctors ran a battery of tests, but determined that the old curmudgeon was fit and healthy.
Theo demanded to be seen by more competent doctors, so Dr. Robin Scorpio-Drake quickly took the case. Theo took an instant liking to Robin when he learned that she had been educated in Paris. However, Theo continued to remain at odds with the other doctors on staff, including Robin's estranged husband, Patrick Drake. Things reached a crisis point when Steve Webber and Patrick Drake decided that it was time to discharge Theo. Theo threatened to sue the hospital and several of the doctors, so Robin quickly stepped in to defuse the situation.
Robin gently explained that Theo suffered from a psychological condition called hypochondria and recommended that he see a therapist. Surprisingly, Theo was grateful that Robin had been the only doctor to properly diagnose him, so he agreed to leave. However, he insisted on following through with the lawsuit. Theo headed straight to Diane Miller's law firm, where he was promptly hired. Diane had been in desperate need of someone to oversee a wrongful death lawsuit that had been filed against mobster Sonny Corinthos' fiancée, Brenda Barrett, and his newfound son, Dante Falconeri. Brenda had shot a man named Anton Banovic, who had been sent by an international crime lord named the Balkan to kidnap Brenda. The lawsuit claimed that Detective Dante Falconeri, Sonny's son, had given Brenda preferential treatment after the shooting.
What no one realized was that Theo Hoffman was the Balkan, and he had arranged for the lawsuit to be filed. Theo had decided to infiltrate Port Charles society to get closer to Brenda, so that he could arrange to kidnap her. Theo was after Brenda because, in 2007, she had shot and killed his son, Aleksander Janacek. Brenda and Aleksander had a brief affair, but she ended things when she had realized that Aleksander was an abusive criminal with strong ties to the mob. Aleksander had stalked Brenda to New York City in an attempt to reconcile, but Brenda had refused to consider it. Brenda had lived in fear of Aleksander, so she had reached out to the New York City police for protection. Young rookie, Dante Falconeri had been one of the police officers assigned to guard the world-famous supermodel.
During that time, Brenda learned that she was pregnant with Aleksander's child. Dante quickly fell in love with Brenda, who only viewed Dante as a friend. One night, during a walk, Aleksander approached the couple. Aleksander grabbed Brenda as he demanded that she talk to him. Dante stepped in, and a brief struggle ensued.
Brenda was horrified as it became clear that Aleksander intended to kill Dante, so when Aleksander's gun fell to the ground, Brenda picked it up and then shot Aleksander. Aleksander collapsed to the ground and then died. Dante decided to cover up the death to spare Brenda further trauma, so he arranged to dispose of the body in a swamp. Brenda left New York City and Dante Falconeri soon afterwards, but not before Dante signed some custody papers claiming to be the father of her child and relinquishing all rights to the baby.
Theo was determined to make Brenda pay for Aleksander's death. Brenda's wedding day presented the perfect opportunity for Theo to snatch Brenda. Brenda's close friend and the director of Brenda's pet charity, the Alliance to Save Exploited Children, Suzanne Stanwyck, had been secretly revealed to be Theo Hoffman's wife. Suzanne was just as eager to hold Brenda accountable for their son's death as Theo was.
After Theo kidnapped Brenda, he learned that Brenda had been pregnant and that his wife had known. Suzanne explained that she hadn't told him about the baby because she hadn't wanted to add to his sorrow so soon after the loss of their son, Aleksander. Theo seemed satisfied with the answer until Brenda revealed that she had fallen ill during the seventh month of her pregnancy while on a trip to Africa. Theo was stunned to learn that Suzanne had been at Brenda's side the entire time and that Suzanne had claimed that Brenda's son had been stillborn during Brenda's illness. Theo was certain that Suzanne had spirited the baby away, so that Theo wouldn't know his grandson.
Theo confronted his wife with his suspicions, but Suzanne steadfastly insisted that the baby had died. Theo didn't believe his wife because he knew that she had always resented how he had raised Aleksander. Suzanne conceded that she hated that Theo had groomed their son to follow in his footsteps, but she was adamant that their grandson had been stillborn. Suzanne also insisted that she wanted Brenda to answer for killing Aleksander.
Theo refused to believe that his grandson had died and continued his search. He believed he was close to finding the child and arrived at Iberia Island near Baton Rouge. Theo sent his men out to search for the adoptive parents and while he waited, Suzanne arrived. She claimed that she wanted to raise the child with Theo and that their grandson would be groomed to take over their vast empire. While they spoke, Suzanne stood behind Theo and slit his throat.

Post a Comment

Share on Facebook

Tweet this

Submit Feedback