The firings continue at Guiding Light, but at least one performer has bucked the trend set by other downgraded performers and will not stick around after her contract ends. Veteran soap performer Marj Dusay (Alexandra Spaulding) has revealed that she will exit Guiding Light later this year, and will not continue on a recurring basis.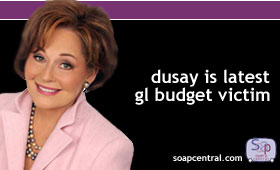 Dusay returned to Guiding Light in December 2002 after former primetime diva Joan Collins opted out of the role as Alex. The Emmy-nominated Dusay had previously appeared on the CBS soap from 1993 to 1996 and then again from 1998 to 1999. In the three years following her previous Guiding Light engagement, Dusay appeared on ABC's All My Children.

Effective September 10th, Dusay will no longer be on contract with Guiding Light. Though she had been asked to remain with the show on a recurring basis, Dusay nixed the idea. Instead the actress will focus on another role - that of grandmother. In addition to spending time with the grandkids, Dusay hopes to make guest appearances in primetime television series.


--->
---

RELATED STORY
Nancy St. Alban returning as Michelle Bauer. [May 4, 2009]
---