One Life to Live fans can breathe a sigh of relief. Though rumors surfaced earlier this year that
Erika Slezak
(
Victoria Davidson
) might soon be shown the door, the six-time Daytime Emmy winner has signed a new contract with One Life to Live.
"Erika's contract was renewed," read a statement on Slezak's official web site.
"I am very happy to be remaining with One Life to Live for the next few years -- and am looking forward to good stories and lots of fun," Slezak added.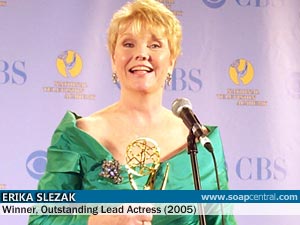 The announcement comes nearly six months after Slezak commented publicly about her lack of on-screen time, explaining that the writers were "focusing on other stories." Slezak urged fans to contact the network if they were interested in seeing more of Viki in the show's storylines.
The news of Slezak's new contract comes just a few weeks after her co-star, Robin Strasser (Dorian Lord), ended much-publicized negotiations by accepting a paycut.
ABC's decision to extend Slezak's stay in Llanview also means that the actress will remain with the show for its move to new studio space next year. Beginning in February, One Life to Live will also broadcast in high-definition.
In March, Slezak celebrated her 38th anniversary with One Life to Live.
Photo: Dan J Kroll/Soap Central
---

RELATED ARTICLE
Erika Slezak sits down for exclusive interview with Soap Central.
---