Brandon Buddy (Cole Thornhart) will be exiting One Life to Live this fall -- and yes, according to a published report, this time it's for real.
This is not the first time that Buddy's name has been attached to exit rumors. In June, Buddy disclosed his decision to exit the ABC soap on his Twitter account.
"It's a bittersweet day," Buddy wrote on June 18. "Today I decided I'm not going to re-sign [my contract]. No more Llanview..."
The announcement created fan panic as it spread across the Internet in just minutes. Several days later, however, Buddy took to his Twitter page to reveal that exit tweet wasn't his doing; he blamed the post on a hacker illegally gaining access to his account.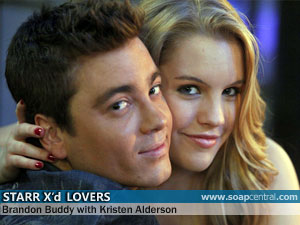 "Had a hacker," Buddy posted just three days later. "Doing everything I can to make sure it doesn't happen again. I'm sorry for upsetting everyone. What they said wasn't true."
According to Daytime Confidential, and as suspected by many of Buddy's fans, show "brass 'encouraged' him to recant the social networking slippage." Since Buddy claimed that his Twitter account had been compromised, the frequency at which he posts to Twitter has dropped.
Buddy joined the cast of One Life to Live in October 2006 as the son of one of the show's supercouples, Patrick Thornhart and Marty Saybrooke.
It is unclear at this time if One Life to Live will immediately recast the role of Cole. A One Life to Live rep, meanwhile, reminds Soap Central that it is show policy to not comment on rumors.