Susan Lucci (Erica Kane) and Walt Willey (Jackson Montgomery) will be exiting All My Children -- but it's only for the summer. The pair will be back on-screen sometime after Labor Day.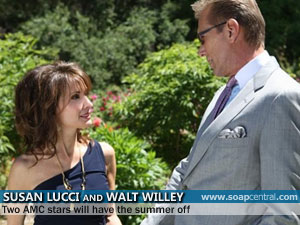 The extended exits are being brought about by Lucci's yearly summer vacation. The break comes as the Emmy-winning star wrapped up her latest front-burner storyline: Erica's plane crash in the mountains of West Virginia.
Willey's exit is tied to his on-screen lover's break. In story, Jackson and Erica leave Pine Valley after reaching an unusual agreement about their romantic future.
While a few weeks off of work might seem like the right time for a vacation, both Willey and Lucci have apparently decided that the time off is perfect for a little... work.
Lucci will guest star in an upcoming episode of the TVLand original series Hot In Cleveland, opposite Betty White, Valerie Bertinelli, Jane Leeves, and Wendie Malick.
Willey, meanwhile, will star opposite former AMC star Julia Barr (Brooke English) in a stage production of Arsenic and Old Lace in Ottawa, Illinois. The play runs from July 23 to July 25. For more information, please visit www.experienceottawa.com.
Summer vacations are nothing new in the world of daytime. General Hospital star Anthony Geary (Luke Spencer) takes yearly summerlong vacations to return to his home in the Netherlands. According to insiders, Lucci's vacation was extended as part of the show's move from New York to Los Angeles. Lucci is afforded more time with her family on the East Coast -- and the network was reportedly able to cut the star's salary.
Lucci and Willey are already in the midst of their vacations. The two performers make their final AMC appearances of the summer on July 15. They are both expected back on the AMC set sometime in September, though an exact date has not yet been determined.
Photo: ABC
---

RELATED STORY
Listen to Walt Willey's appearance on Soap Central Live.