How do you feel about Galen Gering's return to Passions?


Well it's about time! Wow, I've missed seeing Gering and Luis on my TV.
51%
I think of myself as a Gering fan, but I don't really think I missed Luis.
20%
I am not a fan, so I was rather enjoying the Luis-free time on the show.
19%
Other
3%
I didn't think I'd miss Gering/Luis, but I think it's time he returned.
3%
I don't have much of an opinion. Let's just see how he is written back in.
3%
Poll Posted: January 9, 2005
As previously reported
by Soap Central back in April 2005,
Galen Gering
(
Luis Lopez-Fitzgerald
) was
this
close to leaving Passions, a show he has called home since the series' debut back in July 1999. And this wasn't the first time that contract talks with the heartthrob went down to the wire.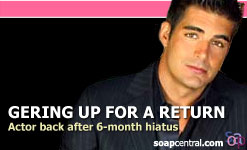 Eventually, Gering and network executives were able to come to a deal - but because the talks dragged on for so long, the show had already prepared a storyline that allowed for Gering's on-screen persona to be disposed of in the event that a deal was
not
reached. Since episodes are taped about a month in advance of that show's airing, there wasn't enough time for the show to revise story to keep Gering on the canvas.
But most fans never expected that they would not see Gering again until a new year rolled around.
The show could have very well scripted Luis' return sooner, but some Internet conspiracy theorists have claimed that the network was making an example of Gering - to avoid other stars taking their contract talks down to the wire. Others say that there were too many other storylines going on and the show's writing team didn't want to muddy up the show's path with too many storylines.
Gering returns to work on January 23rd, so his return should appear on-screen sometime during the February Sweeps period. At "post time," a Passions spokesperson was not yet confirming when Gering's return episode would air.