Emmy winners Susan Lucci (Erica Kane) and David Canary (Adam and Stuart Chandler) will be part of All My Children's reboot, Soap Central has learned.
A source tells Soap Central that Lucci has so far agreed to appear in one episode of the AMC relaunch. There could be more down the line, but for now, scheduling is an issue.
"Susan is busy with Devious Maids," the source says, referring to the Marc Cherry primetime series being developed for Lifetime. "Right now the production schedules don't quite mesh."
In addition to Devious Maids, Lucci is also host of Deadly Affairs, a fact-is-stranger-than-fiction reality series on the ID cable channel.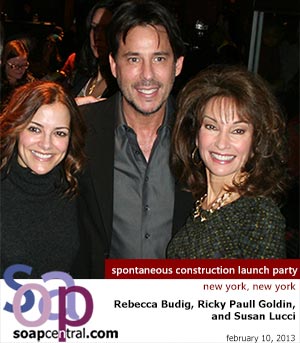 On February 10, Lucci reunited with some of her former All My Children co-stars at a launch party for Ricky Paull Goldin's (Jake Martin) new HGTV series, Spontaneous Construction.
Lucci told Soap Central that she is "very excited for the fans" of All My Children and hopes the show's Internet relaunch will be a success.
Lucci, an original All My Children cast member, appeared on the show for its entire 41-year run on ABC.
Meanwhile, Soaps In Depth reports that Canary "will be seen on an ongoing basis" on All My Children.
In January, Prospect Park confirmed a handful of stars for the show's relaunch. Lindsay Hartley (Cara Castillo), Vincent Irizarry (David Hayward), Thorsten Kaye (Zach Slater), Jill Larson (Opal Cortlandt), Debbi Morgan (Angie Hubbard), Jordi Vilasuso (Griffin Castillo), and Darnell Williams (Jesse Hubbard) have all signed on with the series.
Additionally, Cady McClain (Dixie Martin) said last week that she was "confident" that she'd be part of AMC's Internet life.
Prospect Park could not be reached for comment on Lucci and Canary's involvement.
RELATED STORIES: