Daytime veteran Grayson McCouch has been cast as "Vincent," a purported newcomer on As The World Turns. But McCouch's character isn't exactly he might seem to be.
McCouch will play Dusty Donovan, a character with a rich history. Dusty was Lily Snyder's first love and he is also the true Stenbeck heir. Speculation is that Dusty will be a love interest for Rose. To better acquaint fans with Dusty's past, As The World Turns will air a special flashback episode from 1987 on Christmas Day. [Please click here for more information about this special episode.]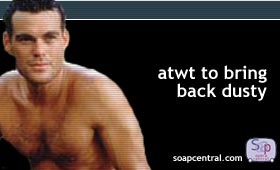 In his previous stay in Oakdale, Dusty Donovan was portrayed by Brian Bloom. Between 1984 and 1986, Bloom earned three Daytime Emmy nominations for his work from - with an Emmy win in the Outstanding Young Man in a Daytime Drama Series in 1984. Bloom joined the cast of As The World Turns in 1983 and remained with the show through 1988.
McCouch played Dr. Morgan Winthrop on NBC's Another World from 1993 to 1996. After leaving daytime, McCouch made a transition to primetime television and appeared in several telemovies, including Sins of the Mind and Airtight. He also appeared in the motion picture Armageddon and will appear in the to-be-released film Momentum.
McCouch will begin taping scenes for the show in January and will make his first on-screen appearance during February.