What is your first impression of Roger Howarth, ATWT's new Paul?
To be honest, I really don't think that I care for Howarth.
28%
He's fantastic. I think he might be the best Paul yet.
27%
He's okay, but I still don't see why Holroyd was let go.
26%
He's pretty good. I think I'll enjoy watching him.
11%
It's way too soon to give an honest assessment of Howarth.
7%
Other
1%
After weeks and weeks of denial and "no comment" statements by show executives, As The World Turns has officially confirmed that
Roger Howarth
(ex-
Todd Manning
,
One Life to Live
) is joining the cast in the role of Paul Ryan.
"We are thrilled to have an actor of Roger's caliber join our cast," said Goutman in a statement. "His intensity and humor bring a whole new dynamic to Oakdale and wherever he goes, fireworks are sure to follow!"
Howarth won the Daytime Emmy for Outstanding Younger Actor in 1994. Howarth joined the cast of ABC's One Life to Live in 1993, but he made a series of exits over the next 11 years - first in 1995. He returned in 1996 before leaving again in 1998. His most recent returned to the fictional town of Llanview was in June 2000, however, he took a temporary leave last summer before leaving "permanently" in February 2003.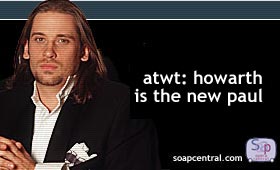 Howarth will assume the role vacated earlier this year by
Scott Holroyd
(
Paul Ryan
). While an As The World Turns spokesperson states that Holroyd's exit was "storyline dictated," it had been wide speculated that the write-out was being done to accommodate the recasting of the role. A show spokesperson had repeatedly stated that there were "no immediate plans" to recast the role of Paul Ryan.
"It was amicable decision, and I'm going to miss the people, but I'm excited to see what's next for me in my career," Holroyd said in an interview earlier this year. Holroyd joined the show
in 2001
.
Howarth marks his As The World Turns debut on July 7th.