Forbes March is joining the cast of As the World Turns this summer. The stop in Oakdale will mark the actor's third soap opera role, and his first on a non-ABC soap.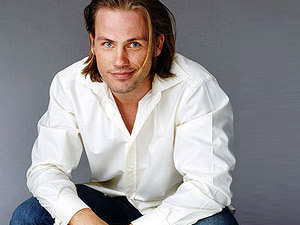 According to Soap Opera Digest, March has been cast in the newly created role of Mason, Noah's college professor. Mason will be revealed to be gay, but the show states that Mason will not become a third wheel in Luke and Noah's relationship. At least that's the current plan. Some fans are already wondering about Mason's lack of a last name, thinking that the professor could have ties to characters already on the canvas.
"I am interested in characters who will demand I look at the world through someone else's eyes and fight for their point of view; so a gay character was interesting to me," March said in an interview with TVGuide Canada. "I am not phobic of really anything and I certainly am not homophobic. From a Christian point of view, God is love and if you don't love your fellow man, then you don't love God. I do not find hate or intolerance, self-righteousness or a lack of humility or compassion to be consistent with my understanding of our philosophy. From a secular point of view, gimme a break! To be homophobic should be as embarrassing as any other ignorant and hateful fear and I hope we are close to that time. I am an actor and I tell stories and love is love."
The Canadian-raised March is known to daytime fans for two roles on ABC soaps. The actor's first daytime role was an 18-month run as All My Children's Scott Chandler. When the ABC soap announced that it was recasting the role of Scott earlier this year, many fans had hoped that the popular actor would be asked back to reprise the role. After leaving All My Children, March took five years off from soap work. In 2005, he created the role of Nash Brennan on One Life to Live. March remained with the show for three years before he was cut from the cast as part of the show's cost-cutting measures.
In addition to his daytime television work, March has also appeared in several movies. While none of the films were box office smashes, the six films allowed the actor to play a variety of characters.
March first airs on July 14.