Will Spencer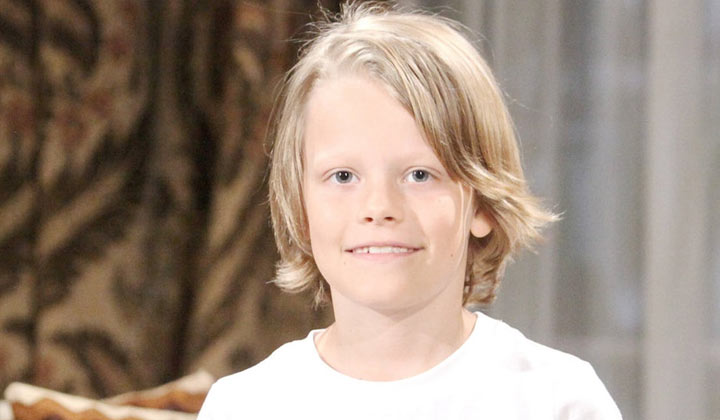 Zane Achor
Finnegan George
William Logan Spencer (full name)
Born on-screen September 25, 2012
Grade school student
A boarding school
Formerly 371 Willow Hill Road, Beverly Hills, CA
Formerly a Beverly Hills mansion, 3197 Holden Drive (once owned by Taylor Hayes Forrester)
Single
None
Katie Logan (mother)
William "Bill" Spencer, Jr. (father)
Bill Spencer, Sr. (grandfather; deceased)
Stephen Logan, Sr. (grandfather)
Elizabeth Henderson Logan (grandmother; deceased)
Helen Logan (great-grandmother; deceased)
Stephen "Storm" Logan, Jr. (uncle; deceased)
Brooke Logan (aunt)
Donna Logan (aunt)
Karen Spencer (aunt)
Caroline Spencer Forrester (aunt; deceased)
Caroline Spencer (cousin; deceased)
Florence Fulton (cousin)
Eric"Rick" Forrester, Jr. (cousin)
Bridget Forrester (cousin)
Hope Logan (cousin)
Ridge"R.J." Forrester, Jr. (cousin)
Jack Marone (biological cousin)
Marcus Walton Forrester (cousin)
Logan Knight (first cousin, once removed)
Ambrosia"Rosie" Forrester (first cousin, once removed)
Douglas Forrester (first cousin, once removed)
Elizabeth Forrester (first cousin, once removed)
Liam Cooper Spencer (half-brother)
Wyatt Fuller Spencer(half-brother)
Kelly Spencer (half-niece)
Beth Avalon Spencer (maternal first cousin, once removed/paternal half-niece)
Ran up expensive dinners on his father's credit card [2019]
Nearly choked on a coin [2014]
William Logan Spencer is the son of PR executive Katie Logan and publishing magnate Bill Spencer, Jr. Will was born during a difficult delivery in which Katie, a heart transplant recipient, nearly died. Will was briefly abandoned by Katie, who was suffering from postpartum depression and deeply afraid she would leave Will an orphan. Will nearly did lose his mother when Katie went into heart failure after she had stopped taking her anti-rejection medication. After being caught in the messy divorce of his parents, infant Will swallowed a coin and was saved from choking to death by Bill. Toddler Will was too young to understand why he couldn't wake his mother, who had become an alcoholic. Will never knew that Bill had nearly taken custody of him away from Katie.
Pre-K Will had trouble understanding why his mother and his half-brother, Wyatt Spencer, were spending so much time together; the boy wasn't told that Katie and Wyatt had developed a romantic relationship. Aged slightly, Will became sullen under the neglect of Bill, who was too busy chasing Steffy Forrester to spend time with him. Will rejected Bill's attempts to compensate and understood when Katie explained she was filing for sole custody of him. Will approved when Thorne Forrester became his new stepfather, completely unaware he was the center of a bitter custody fight that saw Thorne's brother, Ridge Forrester, influencing a judge to rule in Katie's favor. Will came around to Bill and was just happy to develop a closer relationship with his father.
Will understood when Thorne announced he and Katie should no longer be married and decided he was okay with it as long as he could text Thorne, who was moving to Paris. Will spent more time with both his parents and asked them why they weren't married. Hoping to get Bill and Katie back together, Will snagged Bill's credit card and used it to arrange expensive dates which he anonymously sent his parents on. Will got caught, but was relieved when Bill and Katie found the gesture cute and declined to punish him. Later, Will was overjoyed when his parents announced they were reuniting and that they would all be living together again.
Will was happy to meet Beth Spencer, the infant daughter of his cousin, Hope Logan; Will didn't know that Beth had been a pawn in a scheme perpetrated by obstetrician Reese Buckingham, who stole Beth, switched her with a dead baby, and used money from Beth's adoption to pay gambling debts. Later, Will worried when his mother was hospitalized with kidney failure; Will was afraid Katie might die until a donor was found in time. At his mom's request, Will was the first one she saw when she woke up from a successful surgery.
In 2021, it was said that Will was away at boarding school.

Post a Comment

Share on Facebook

Tweet this

Submit Feedback