THE 35th ANNUAL DAYTIME EMMY AWARDS
St. John, Tognoni win second trophies
by
Dan J Kroll

Posted Friday, June 20, 2008 5:16:07 PM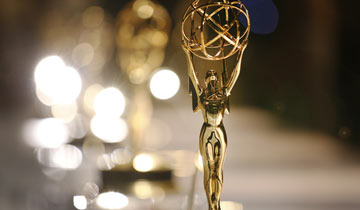 OUTSTANDING SUPPORTING ACTOR
Kristoff St. John
(
Neil Winters
,
The Young and the Restless
)
"I want to thank Rick Hearst for not being in this category this year," St. John mused, referencing the General Hospital actor who has won twice since 2004.
St. John is a previous Emmy winner, having won the Outstanding Younger Actor in a Drama Series in 1992. With his win in the Supporting Actor category, St. John became nostalgic and, at times, very emotional.
"Truly it's been a tough couple years. I feel like I'm not a kid anymore," St. John commented. "I'm not a kid anymore standing here. This isn't a kid Emmy."
In winning, St. John took time to praise the work of his fellow nominees, saying that "without them this would be insignificant."
St. John also thanked Y&R's former head writer Lynn Marie Latham in his speech, praising her for giving him "one hell of an incredible ride."
In addition to his work on The Young and the Restless, St. John also received a nomination in 1989 for his work on Generations.
St. John did not visit the press room.
OUTSTANDING SUPPORTING ACTRESS
Gina Tognoni
(
Dinah Marler
,
Guiding Light
)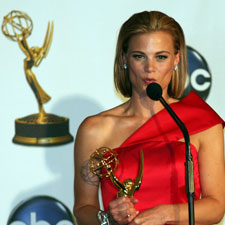 Guiding Light actress Gina Tognoni picked up her second Emmy statuette in three years. The move to the long-running CBS soap has been a boon to Tognoni's daytime career. Tognoni appeared for six years on ABC's One Life to Live as Kelly Cramer, but the actress did not receive an Emmy nomination until she joined the cast of Guiding Light. Tognoni has been a member of the GL family since July 2004.

"I am so proud to be a part of this show," Tognoni beamed from the stage. "And I share this with the talented cast members that I work with every day. I am proud of daytime and I pray that it goes on for a million more years."

In the press room, Tognoni reflected on where her path could have gone. The actress had once been considered for the role of Carly on General Hospital, but the role never came to pass.

"It was something that I looked at but never for too long," Tognoni admitted. "I was about me being on the East Coast and General Hospital films on the West Coast. Something else was in my path and Guiding Light came to me."

Tognoni's personal life is equally golden. In November, she became engaged to Joseph Chiarello, who, Tognoni happily points out is not in show business.

"I've waited a long time for someone special like him," she smiled.

However, on the stage, Tognoni forgot to mention her fiancÚ in her thank yous.

"Oooh, I was a little nervous and I just...I-I-I'm absolutely overwhelmed," Tognoni said after leaving the stage. "And my fiancé, I didn't say his name at the end. He's going to kill me. I have to watch out. He's going to kill me. I love you Joe. Thank you. I love you."

Now that Tognoni has two Emmy statues, she said that she might have to buy a hutch to store her hardware. Her first Emmy is "in my closet." Tognoni recently moved and hasn't had a chance to find a permanent home for the trophy.

Share this story with friends, family or the world.