THE 35th ANNUAL DAYTIME EMMY AWARDS
Landon pulls off threepeat, Pelphrey grabs second win
by
Dan J Kroll

Posted Friday, June 20, 2008 5:54:51 PM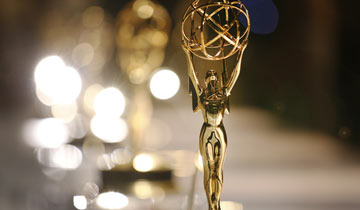 OUTSTANDING YOUNGER ACTOR
Tom Pelphrey
(
Jonathan Randall
,
Guiding Light
)
If an Emmy were to be given for best backstage comedic performance by a soap opera star, the winner would be Tom Pelphrey. The actor turned his meet-the-press routine into a stand-up comedy act on no less than three occasions. The first came just seconds into his question and answer session when a publicist knocked over an easel. Pelphrey ducked to the ground and shouted, "Fire in the hole!"
"This one is for my father," Pelphrey said fighting back tears. The actor's father passed away late last year.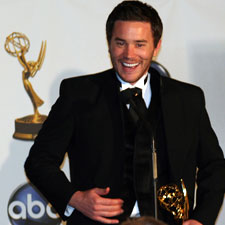 Backstage, though, Pelphrey shared fond memories of his father with members of the media.
"He was a big guy, about six-four," Pelphrey reflected. "He used to coach basketball teams ... and I sucked. But he played me because I was his son. I would only get two points a game and maybe a rebound."
Pelphrey's father supported him in his pursuit of an acting career even though it may have seemed worlds away from his father's career as a basketball coach.
"He was Big Dick," Pelphrey paused before dead-panning. "His name was Richard. The apple doesn't fall far from the tree."
Pelphrey has popped in and out of Guiding Light several times since leaving the show in February 2007. Would he return on a more permanent basis if the show came calling?
"I am pretty much open to anything," Pelphrey nodded.
In his post-GL life, Pelphrey has trimmed his trademark long locks. The long hair, Pelphrey explained, made it hard for him to audition for certain roles.
Of his outfit for the evening, Pelphrey admitted that he had no idea who he was wearing. He then pulled back his coat and attempted to read the label. "Jean... Yooowaaaah Beaucoup? I know it's European." Though he didn't know the designer's name, he liked the buttonless style of his jacket.
"I look like I should be kicking ass in some kind of pool hall," Pelphrey laughed.

IN-DEPTHReview what Pelphrey had to say in his very first Emmy win.

OUTSTANDING YOUNGER ACTRESS
Jennifer Landon
(
Gwen Norbeck
,
As the World Turns
)
It must be something about the name Jennifer. Jennifer Landon haws now tied Jennifer Finnigan (ex-Bridget Forrester, The Bold and the Beautiful) in the record books. Both actresses have tallied three consecutive wins in the Outstanding Younger Actress category. They are the only performers in Daytime Emmy history to win three consecutive acting trophies.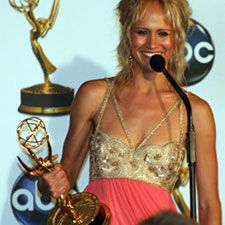 Landon, who exited As the World Turns earlier this year, took time out to thank her former co-stars and castmates, with whom she spent the last three years of her life.
"I thank you with all my heart, from our production, to our costume, hair and makeup and wardrobe. You're solely responsible for my second character," Landon noted, referring to Cleo Babbitt, a second role that she played on the show. Last year, Landon joked that playing Cleo was "the most fun I've had in a long time -- since coloring in kindergarten, actually."
Backstage, Landon confessed that she missed playing Cleo. The admission may surprise fans, many of whom were less than thrilled with the wacky Gwen almost-look-alike. But missing the role may not be enough to make Landon race back to Oakdale.
"I miss working very much," Landon admitted. "I really have no idea what I'd say to anything unless it came up," Landon stated.

IN-DEPTHRead more of Landon's backstage banter from her Emmy win last year.