THE 36TH ANNUAL DAYTIME EMMY AWARDS
AMC tops all Emmy tallies, DAYS has big showing
by
Dan J Kroll

Posted Thursday, May 14, 2009 10:37:53 AM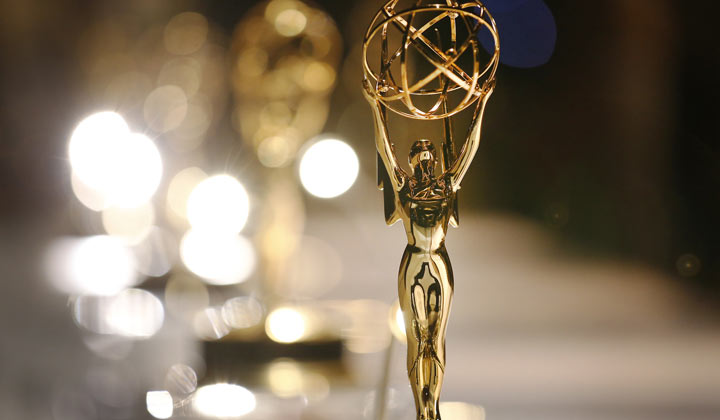 THE nominations for the 36th Annual Daytime Entertainment Emmys have been announced. There were seismic shifts on the ballot this year. Perennial powerhouses are out and the number of nominees per category has been slashed. Get the complete scoop in Soap Central's comprehensive Emmy coverage.
To skip ahead to the list of nominees, click here
Nominations for the 36th Annual Daytime Emmys were announced live on Thursday, May 14 from the set of NBC's Today, a decision that was awash in irony. The announcement of this year's nominees was much later in the year than any recent nominations ceremony, a situation brought on by CBS deciding that it didn't want to broadcast this year's Emmy telecast. The decision sent the Academy scrambling to find a new network to play home for this year's Daytime Emmys. The CW, which doesn't have a daytime lineup of its own, stepped up to the plate and will broadcast the Emmys in August.
Daytime fans may question why the newly minted fourth hour of Today was used to announce this year's Daytime Emmy nominations. It was the expansion of NBC's morning news-talk hybrid that led to the cancellation of Passions. Additionally, Today didn't have any daytime stars on the show to announce the nominations. Instead, it invited Entertainment Weekly senior writer, Jessica Shaw, to sit on a couch and read the nominees' names from oversized index cards.
For the first time in recent years, CBS was not the dominant network, which may make the network's decision to bow out of broadcasting the Emmys look a little wiser. ABC led in the early acting nominations with a total of ten nominations -- six of which went to All My Children. CBS's As the World Turns placed second with three nominations. In a move that will please fans of most shows, every soap received at least one acting nomination.
Perennial powerhouses General Hospital and The Young and the Restless racked up just two acting nominations apiece.
Drama Series
There were just three nominees for the Outstanding Drama Series, a figure that seemed to catch even the Today show hosts by surprise. There have typically been four or five nominees in this category in the past. The decreased number of nominees may be a direct result of there having been fewer soaps on the air last year.
Omitted from the list were General Hospital, last year's winner and winner of the crown in three of the last five ceremonies, and The Young and the Restless, television's top-rated soap opera for more than 20 years. This is the first time in 25 years that The Young and the Restless has not received a nomination for Outstanding Drama Series. You have to go all the way back to 1983 to find a time when Y&R wasn't up for the top soap honors.
The Bold and the Beautiful, daytime's only remaining 30-minute soap, has never been named top soap by the Daytime Emmys. The CBS soap received its first nomination in the Outstanding Drama Series category in 2003. To earn its nomination, The Bold and the Beautiful submitted heartwrenching scenes in which Storm took his own life in order to save his sister's life. B&B executive producer and head writer, Bradley Bell, offers his thoughts on the nomination in our Emmy Reaction section.
Of the remaining two nominees, it's been more than a decade since either took home top honors at the Emmys. In 1998, All My Children was named television's best soap opera. Meanwhile, Days of our Lives was named top soap just once in its long history and that win came more than 30 years ago, in 1978.
now offers exclusive video analysis and commentary of this year's Daytime Emmy Awards.
--->
Lead Actor and Actress
While their names may be more than just a little familiar to daytime fans, this year's Outstanding Lead Actor and Lead Actress categories represented a sizeable shakeup in the nominations process. Despite the familiarity of the names, this year's list of nominees was hardly a carbon copy of the previous year.
Nine of the ten nominees have been nominated previously. Seven of those nominees are previous Emmy winners. All five nominated actresses have Emmy trophies in their homes, but not necessarily from wins in the Lead Actress category.
Long-time Days of our Lives veteran Peter Reckell (Bo Brady) scored his very first Daytime Emmy nomination. Reckell joined the cast of Days of our Lives in 1983. This was the fifth year that the actor had been "pre-nominated" by his show in the Lead Actor category.
Thorsten Kaye (Zach Slater, AMC) and Daniel Cosgrove (Bill Lewis, Guiding Light) are the only other Emmyless nominees in the Lead categories. Cosgrove was nominated last year in the Supporting Actor category. Kaye is now a four-time nominee. In addition to two nominations for All My Children, Kaye was nominated previously for his work on Port Charles.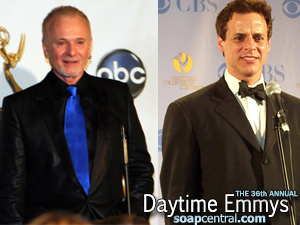 Anthony Geary (Luke Spencer, GH) and Christian J. LeBlanc (Michael Baldwin, Y&R) have been the only winners in the Outstanding Lead Actor field since 2004. The two actors have alternated as winners every year. Ratcheting up that figure just a bit, since 1999, only three other performers have been named Lead Actor. In that time, Geary has won five times and LeBlanc twice.
Turning the attention to the Lead Actress nominees, the two most recent winners in the category are once again on the ballot. Jeanne Cooper (Katherine Chancellor, Y&R), a surprise winner last year and the most senior nominee on the ballot, received her eighth nomination in the field. Maura West, a winner two years ago, has received three consecutive Lead Actress nominations.
The Bold and the Beautiful's Susan Flannery (Stephanie Forrester) was nominated for the first time in three years. For her work on B&B, Flannery has received three Daytime Emmy wins. She also picked up a trophy in 1975 for her work on Days of our Lives. Flannery has been pre-nominated by her show every year in this category.
Debbi Morgan (Angie Hubbard, AMC) and Susan Haskell (Marty Saybrooke, One Life to Live) are previous Emmy winners -- in the Supporting Actress category. Haskell earned her Emmy victory in 1994 as part of One Life to Live's landmark gang rape storyline. 15 years later, Haskell receives a nomination for her work in a storyline that revisited that controversial story.
Morgan, meanwhile, made Emmy history for an entirely different reason. In 1989, Morgan tied with Nancy Lee Grahn (then-Julia Wainwright, Santa Barbara) for the Supporting Actress win. It is the only acting tie in Daytime Emmy history. Now nominated in the Lead Actress field, this year's NAACP Image Award winner will have a chance to win an Emmy that she won't have to "share" with anyone else.

CONTINUE READING...Analysis of the Supporting, Younger, and Creative Arts categories in Part Two


CLICK HERE TO VIEW A LIST OF THIS YEAR'S NOMINEES

Share this story with friends, family or the world.