THE 36th ANNUAL DAYTIME EMMY AWARDS
Three first-time winners in two Supporting categories
by
Dan J Kroll

Posted Monday, August 31, 2009 12:55:09 AM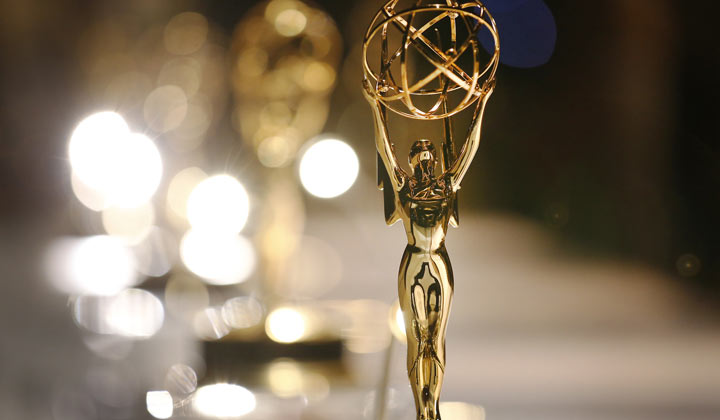 OUTSTANDING SUPPORTING ACTOR
Vincent Irizarry
(
David Hayward
,
All My Children
)
and
Jeff Branson
(
Shayne Lewis
,
Guiding Light
)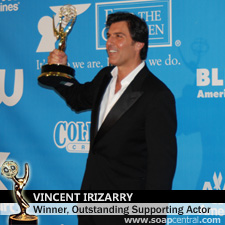 It was quite a way to open the evening. In the first category of the night -- and for the first time in the history of the Outstanding Supporting Actor field -- there was a tie.
Of the five nominees in this category, only Jacob Young (JR Chandler, All My Children) was a previous Emmy winner going into Emmy Night. Young picked up an Outstanding Younger Actor trophy in 2002 for his work as Lucky Spencer on General Hospital. For four of the nominees, this marked their very first nomination in the Supporting Actor field. Only Jeff Branson (Shayne Lewis, Guiding Light) was nominated previously in the category, but it was for his work as Jonathan Lavery on AMC in 2005.
In an ironic twist, many soap viewers feel that Irizarry deserved to have won an Emmy during his time on Guiding Light in the 1980s -- and that Branson should have won for his work several years back on All My Children. This year, both men finally took home their Emmys.
"It's been a crazy three years. I want to dedicate this award to my beloved son, Ash, who is fighting our nation's battles in the land of Afghanistan right now," Irizarry said in his acceptance speech. "To you, Ash, and to your other brave brothers and sisters in arms right now, thank you. Come home safe and come home soon."
Irizarry also reflected on a phone call he'd received from All My Children head writer, Charles Pratt, Jr., who had contacted him last year about reprising his role as David Hayward. According to Irizarry, Pratt had promised that if Irizarry returned to Pine Vallry, he'd make sure that Irizarry would win an Emmy.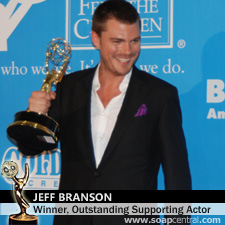 The second winner in the category, a nervous Branson, thanked his Guiding Light family.
"This is so bittersweet. I know that you don't get to work with a family like I had on Guiding Light," Branson remarked. "This is a big part of Kim Zimmer, of Robert Newman and Bradley Cole and Gina Tognoni."
Though experts, including our own Soap Central Emmy panel, pegged Branson as a front runner in the category, Branson tried to remove himself from all of the phone calls that said he was a shoo-in.
"I'm not going to lie. I wanted to win this baby. I wanted to win it," Branson admitted. "At the end of the day -- and I mean this with all of my heart -- to be nominated, to have the opportunity to be standing up there with that talent recognized by my peers for this... Not to sound cheesy, but that's the honor."
As for what's next for Branson, the actor played coy and said that he would have something to announce soon. He revealed that he will move from New York to Los Angeles and also declined to rule out a return to daytime television. There have been rumblings that The Young and the Restless might be considering Branson for a role.
With this year's wins, both All My Children and Guiding Light have won five times in the Supporting Actor category.
Photo Credit: Brandon Gonzales/Soap Central
OUTSTANDING SUPPORTING ACTRESS
Tamara Braun
(
Ava Vitali
,
Days of our Lives
)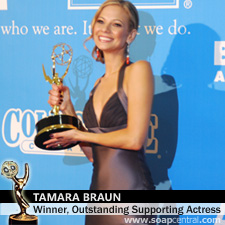 Like their male counterparts, this category presented the opportunity for a first-time Emmy winner. This marked the first-ever Daytime Emmy nomination for four of the nominees. Only Tamara Braun (Ava Vitali, Days of our Lives) received a previous nomination. Braun's other nod came in 2004 in the Outstanding Lead Actress field for her work as Carly Corinthos on General Hospital.
The second time proved to be the charm for Braun, who seemed genuinely surprised upon hearing her name announced as the winner in the category. Earlier on the Red Carpet, Braun labeled herself the underdog in the category.
With her win, Braun became just the third Days of our Lives actress to win in the Supporting Actress category, and the first since Leann Hunley won for her work as Anna Brady in 1986. And while Braun's time on Days of our Lives lasted just a scant six months, her role was memorable enough to earn the support of her former castmates nearly half-a-year after she taped her final scenes.
"I'm so happy to have this for them. It's for them," Braun said incredulously upon realizing the NBC soap's drought in the Supporting Actress field. "They supported me. I wasn't there that long and they opened their hearts and their family to me and treated me just as their own. I'd play with them every day of the week. I'm so happy for the nominations that they got and I can't wait for more people to bring them home. They are the little engine that could... and they can and they're gonna keep going."
Since leaving Days of our Lives, Braun appeared for six months on ABC's All My Children. Though she is not appearing on daytime television at the moment -- she has a recurring role on the cable primetime series Saving Grace -- Braun's name has repeatedly popped up as someone that might return to All My Children once the show relocates to Los Angeles in 2010.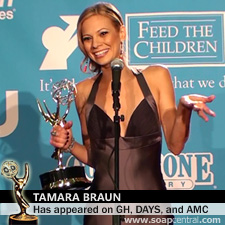 "I'm so excited to see people and be able to have coffee with them now and not have to fly out to New York, although you know I really like New York." Braun laughed as she mulled the pros and cons. "But you never know what tomorow brings... you never know what tomorrow brings..."
Having three successful roles under her belt, Braun has built a loyal following during her eight years in daytime. The Emmy-winning actress has nothing but kind words for daytime fans.
"They follow the people they love wherever they go," Braun explained. "Not only as a character, but as an actor. They will support you in daytime, in primetime, in movies... I have found that they are the most unique and wonderful people."
Photo Credit: Brandon Gonzales/Soap Central and Dan J Kroll/Soap Central

SEND TO A FRIEND
Email this article to a friend.

PRINTABLE VERSION
View a printer friendly version of this article
---