THE 36th ANNUAL DAYTIME EMMY AWARDS
Brooks, Berman struggle to find words to express their feelings
by
Dan J Kroll

Posted Monday, August 31, 2009 1:23:26 AM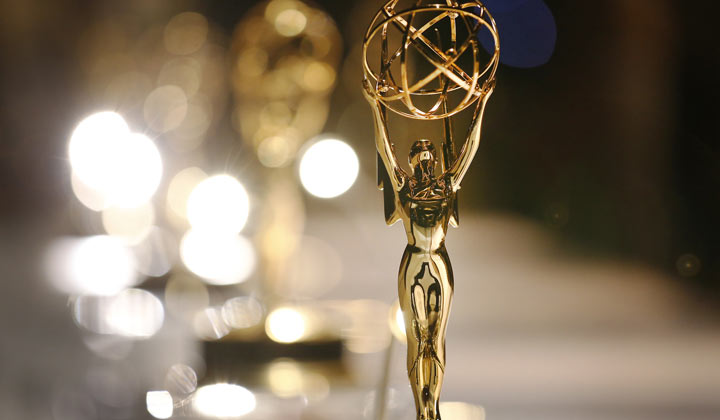 OUTSTANDING YOUNGER ACTOR
Darin Brooks
(
Max Brady
,
Days of our Lives
)
Sometimes it's difficult to contain your emotions. For former Days of our Lives star, Darin Brooks, it was also apparently difficult to find FCC-friendly words to express his elation over winning a Daytime Emmy.
"I thought this would be a little easier, this speech thing. Thank you, every [freaking] body," Brooks began before forgetting that the cameras were rolling. It wasn't until someone from the audience reminded him that he couldn't curse that he became aware of what he'd said.
"Oh did I swear?" Brooks blushed. "I knew that was gonna happen."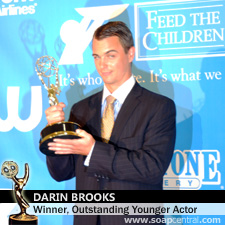 Brooks' mouth puckered as a wave of frustration swept over his face. When the band began to play its exit music, he sighed slightly before bowing his head and exiting the stage to laughter from the audience.
"They had a really meaty story with me and Roscoe Born, who played my abusive father," Brooks said. "I love Roscoe. He's a gem, man. He's a pro. He's taught me so much stuff."
Brooks also says that he learned many things about himself during his two-and-a-half years on Days of our Lives.
"People don't realize that [soap operas] are such a fantastic training ground," Brooks explained. "We're getting paid to get better as actors... to hopefully move on to movies and primetime shows and stuff like that. Not that daytime isn't anything to strive for."
As was the case in the Supporting Actress category, it had been quite some time since a DAYS performer took home an Emmy in the Younger Actor section of the ballot. The last and only other Days of our Lives winner was Billy Warlock in 1988. Ironically, Warlock and Brooks' former alter egos are brothers.
OUTSTANDING YOUNGER ACTRESS
Julie Berman
(
Lulu Spencer
,
General Hospital
)
For the past three years, As the World Turns star Jennifer Landon (Gwen Norbeck) has taken home the trophy in this category. With Landon having exited her role on the CBS soap, the door was open for a new winner to emerge. None of the five actresses nominated in this category had previous wins.
"This is so scary," Julie Berman exclaimed from the stage. "I haven't been shaking this hard since I auditioned for this part."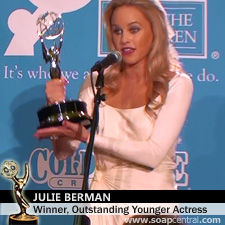 Berman now joins the likes of her on-screen mom and dad -- Genie Francis (Laura Spencer) and Anthony Geary (Luke Spencer) -- as an Emmy winner. Jonathan Jackson (ex-Lucky Spencer) picked up a trio of Emmy statuettes for his work as Lulu's brother, but Berman was not yet a part of the GH family at that time.
"I think I am very blessed to be a part of a TV family of extremely talented actors," Berman said of her reel-life family members. "I am inspired by the people that I work with, and a lot of the time that's the people that play my family members."
Berman assured her fans that they'd be seeing more of her in the future and explained that some "personal stuff" had limited her on-screen time in recent months. Berman did downplay the possibility of a long-lasting love in her character's future.
"Lulu's a bulldozer. Let's be honest," Berman offered bluntly. "She's unlucky in love, but I think that's endearing -- and I don't mind making out with lots of men!"