The 38TH ANNUAL DAYTIME EMMY AWARDS
General Hospital tops nominations, B&B and AMC sweep "big three"
by
Dan J Kroll

Posted Wednesday, May 12, 2010 9:07:59 AM

THE nominations for the 37th Annual Daytime Entertainment Emmys have been announced. Get the complete scoop in Soap Central's comprehensive Emmy coverage.
To skip ahead to the list of nominees, click here.
To find out which episodes the nominees submitted, click here.
Nominations for the 37th Annual Daytime Emmys were announced live on Wednesday, May 12, from the set of CBS's Early Show. Rather than having a star from one of its own daytime programs, CBS selected actress Bree Williamson (Jessica Buchanan, One Life to Live) to read this year's nominations. Host Harry Smith revealed later that she was selected because she'd received a nomination in the Outstanding Supporting Actress field.
General Hospital continued its run as one of the most-honored programs in daytime television history. The show earned the most nominations of any program with 18. In its final year of eligibility, Guiding Light earned three nominations.
In a strange twist -- one never before seen in Daytime Emmy history -- only one of last year's Daytime Emmy acting winners received a nomination this year. Four of those previous winners didn't make the cut, and two are no longer on daytime. Julie Marie Berman (Lulu Spencer, GH), who won last year in the Outstanding Younger Actress category, received a nomination in the same category this year.
Drama Series
The number of nominees for Outstanding Drama Series was bumped up to four this year. Last year, there were just three nominees for top soap, a decision that caught many fans and critics by surprise
Last year's winner, The Bold and the Beautiful, has a chance to repeat. Television's only remaining 30-minute soap opera marked its 23rd anniversary earlier this year. Surprisingly, it received its very first Outstanding Drama Series nomination just eight years ago. Since that time, it has earned four additional nominations.
ABC's All My Children, which is coming off a year that many in the industry have classified as one of its worst creatively, earned its 29th nomination for Outstanding Drama Series. At one point, the ABC soap had received 27 consecutive nominations in the category. That streak was snapped in 2003. All My Children last won top honors in 1998.
General Hospital, which has already won in this category ten times -- the most of any show -- was nominated for a 22nd time. The show was not nominated for the top soap prize last year. The show's most recent win was in 2008.
The Young and the Restless, television's most-watched soap for more than two decades, was also not among the nominees last year for Outstanding Drama Series. Up to that point, it had received 24 consecutive nominations in the category. The show's last win in the field was in 2007, when it shared honors with Guiding Light. Its last solo win was in 2004.
Lead Actor and Actress
For the first time in seven years, the Outstanding Lead Actor winner will not be General Hospital icon Anthony Geary (Luke Spencer) or The Young and the Restless' Christian J. LeBlanc (Michael Baldwin). Geary didn't make the final cut on this year's ballot, and LeBlanc didn't submit his name for consideration. Don't feel bad for either of them -- they have a combined nine Emmy trophies between them.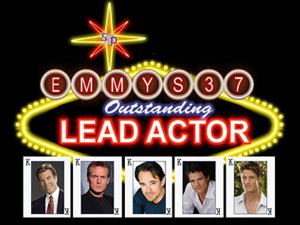 That being said, four of this year's five nominees for Outstanding Lead Actor have never before won a Daytime Emmy. Only veteran Peter Bergman (Jack Abbott, Y&R) is a previous winner. He won back-to-back Emmys in 1991 and 1992.
Both of As the World Turns' pre-nominees made the final ballot. Michael Park (Jack Snyder, ATWT) has been nominated twice previously -- in 2007 and, as a Supporting Actor contender, in 2001. His castmate, Jon Lindstrom (Craig Montgomery, ATWT), has never before been nominated for a Daytime Emmy. Lindstrom has appeared previously on General Hospital and Port Charles, and began his daytime career in 1985 on Santa Barbara.
Another first-time nominee is Days of our Lives star James Scott (E.J. DiMera, DAYS). Scott is one of five Days of our Lives stars to receive an acting nod this year, which matches the show's total from last year.
Y&R's Doug Davidson (Paul Williams, Y&R) received just his second Daytime Emmy nomination. He was last nominated in 2003.
Among the women, there is only one nominee who has not yet won Emmy gold. All My Children's Bobbie Eakes (Krystal Carey, AMC) earned her second Outstanding Lead Actress nomination. The former Miss Georgia received her only other Emmy nomination in 2006. She began her daytime run in 1989 on The Bold and the Beautiful.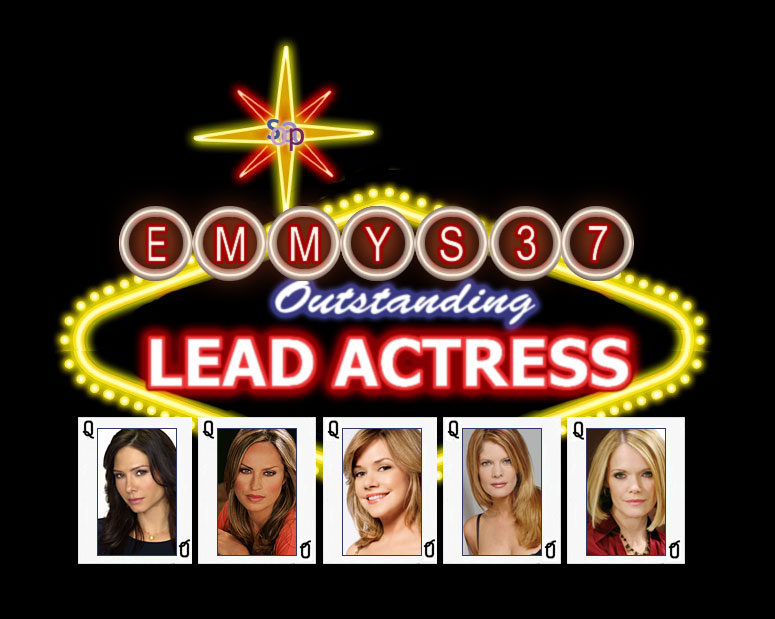 Though her character was killed off last year and she's since moved on to join the cast of The Bold and the Beautiful, Sarah Brown (Claudia Zacchara, GH) received a nod for her work on General Hospital. For her work on GH, Brown has won two Outstanding Younger Actress trophies and, in 2000 -- her most recent nomination -- earned a Supporting Actress win. This marks her first Lead Actress nomination.

Crystal Chappell (Olivia Spencer, GL) earned one of Guiding Light's three nominations this year. Chappell, a winner in the Supporting Actress category in 2002, was previously nominated in this category in 2006, 2007, and 2008.

Maura West (Carly Tenney, ATWT) received her fourth consecutive Lead Actress nod. She was a winner in 2007, and earned two Supporting Actress nominations in 2001 and 2003.

Michelle Stafford (Phyllis Summers, Y&R) has a chance to win a third Emmy statue. Stafford received her sixth Lead Actress nomination this year. She took home the gold in this category in 2004, and she won an Outstanding Supporting Actress Emmy in 1997.

Last year's winner, Susan Haskell (Marty Saybrooke, OLTL) was not pre-nominated.

» CONTINUE READING... for analysis of the Supporting, Younger, and Creative Arts categories in Part Two


CLICK HERE TO VIEW A LIST OF THIS YEAR'S NOMINEES

DISCUSS THE EMMY NOMINATIONS ON OUR MESSAGE BOARDS






Share this story with friends, family or the world.