THE 37th ANNUAL DAYTIME EMMY AWARDS
Berman repeats while Bell strikes a surprise
by
Dan J Kroll

Posted Monday, June 28, 2010 11:29:27 PM


OUTSTANDING YOUNGER ACTOR
Drew Tyler Bell
(
Thomas Forrester
,
The Bold and the Beautiful
)
Perhaps the most unique category of Emmy Night, the Outstanding Younger Actor category featured four nominees who were no longer a part of the shows for which they were nominated. Four of the nominees were first-time nominees. None of the five nominees have previously won an Emmy.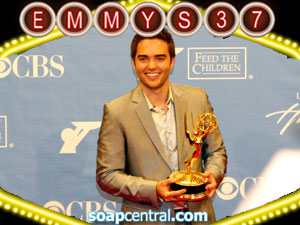 "I wanna thank Brad Bell, our executive producer, and the rest of the producing team for giving me this amazing privilege for the last seven years," Bell said upon accepting his statuette. "Everyone else down there at Bold and the Beautiful, you guys are so good at what you do. To my stunningly beautiful wife, Sarah, your love and support mean the world to me. I wake up every day with a smile on my face knowing I get to spend the rest of my life with you."
In an Emmy rarity, Bell was not a contract player with The Bold and the Beautiful at the time of his nomination -- nor is he on contract now. When asked if he thought that his Emmy win might convince B&B brass to sign him to a contract, Bell seemed ambivalent.
"I've been back and forth on contract more times than Wimbledon," Bell mused. "The contract doesn't really mean anything, I think, to our show. It's just about storyline. I won this Emmy for material from when I wasn't on contract. I love the show and if I'm on contract, great. If I'm not on contract, great. As long as they're working me, I'm happy."
While Bell is just the second male performer from B&B to win the Younger Actor crown, the CBS soap had a string of four consecutive wins in the Outstanding Younger Actress category beginning with Adrienne Frantz's win in 2001 and following up over the next three years with Jennifer Finnigan's back-to-back-to-back awards.
OUTSTANDING YOUNGER ACTRESS
Julie Berman
(
Lulu Spencer
,
General Hospital
)
Like its male counterpart, the Outstanding Younger Actress category had several first-time nominees. Only one of the five nominees has previously won an Emmy -- last year's winner, Julie Berman.
While some nominees pore over dozens of episodes to find just the right one to submit for Emmy consideration, Berman admitted that she didn't have that problem this year.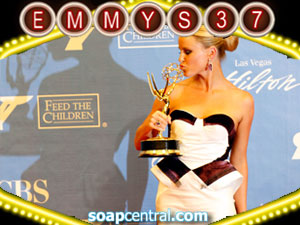 "The honest answer is that I didn't have anything else," Berman responded when asked why she selected the episode she'd submitted. "The embellished answer is the fact that that was something I was insanely proud of. After I did it, I saved the script. I knew it [would have] to be an incredible episode to film after the fact for me to ever consider submitting anything else other than that."
Berman's reel included an episode in which she accused her best friend of wanting to steal her boyfriend from her. During the eight-minute tongue-lashing, Berman showed controlled rage that apparently resonated with the Emmy voters.
Berman's win this year helped to continue a recent trend in this category -- winners earning consecutive Emmys. Jennifer Finnigan earned a record-breaking three consecutive wins while on The Bold and the Beautiful and As the World Turns' Jennifer Landon equaled the feat just two years ago.
Berman, however, will not get a chance to threepeat in the category.
"I'm too old next year. I'm not a younger actress anymore," Berman said with a laugh.