Veteran actor Billy Dee Williams is headed back to General Hospital -- well, sort of. Williams will join the cast of General Hospital later this year in the role of Toussaint DuBois. If the name sounds familiar, there's a good reason for it. It's the same role that he created on the ABC Daytime series' primetime spinoff, General Hospital: Night Shift.
The addition of Williams to Night Shift's first season was seen as a major casting coup for the SOAPnet series. It appeared to pay off. The premiere episode of Night Shift was the all-soaps cable channel's highest rated broadcast. Williams was also asked to be a part of the series's second and, as-of-now, final season in 2008.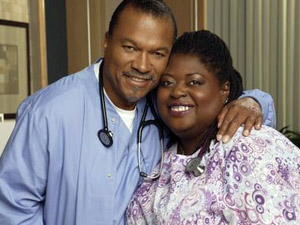 When last spotted on Night Shift, Toussaint was preparing to give up his regular gig as a janitor at the hospital in order to go on tour with his singing group, the Saints. According to ABC, as a result of the sour economy, "the tour went bust [..] and now Toussaint is back at GH working as a janitor."
It is believed that Williams will interact with ddy's Epiphany Johnson, with whom he had a flirtatious relationship on Night Shift.
Williams is known for numerous film roles, including Lando Calrissian in the Star Wars anthology and Louis McKay in Lady Sings the Blues. He famously appeared as himself on an episode of The Jeffersons, where he was the oft-mentioned fantasy crush of maid Florence Johnston. The trip to General Hospital will not, however, be Williams' first daytime role. He appeared as an assistant district attorney on Another World at the very beginning of his career. In 1966, he appeared as Jim Frazier on Guiding Light. For trivia buffs, after leaving Guiding Light, Williams' role was recast with James Earl Jones taking over. Jones, of course, also went on to bigger fame -- including a role as the voice of Darth Vader, where he appeared "opposite" Williams.
Williams debuts on General Hospital on June 4.
Photo: Craig Sjodin/SOAPnet