There are rumors abound that John J York (Mac Scorpio) might make a jump to CBS's The Bold and the Beautiful. The show is said to have recently put out a casting call for a character that shares similar traits to York.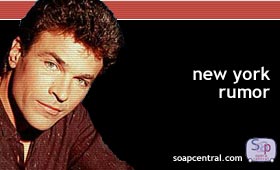 The role, said to be a contract role for a "no holds barred" business executive, has some insiders wondering if the role was created with York in mind.
York, a ten-year veteran of General Hospital, was downgraded to recurring status from contract status in November. There had been rampant speculation that York's character would become involved in a crossover storyline with All My Children's Anna Devane, Mac's sister-in-law. The purported crossover did materialize -- in the form of a one-day visit by Mac to Pine Valley -- but it was nothing in the way that many fans had expected.
The casting process for the B&B role is ongoing.
York's publicist tells Soap Central that while B&B might be seeking actors that look like York -- York has not been contacted by the show.
"John remains on General Hospital in a recurring role," the rep states.