It's been several months since Delores Padilla first mentioned her husband, but the character has yet to appear on viewers' television screens. That changes later this month, according to Soaps In Depth, when model/actor Christian Monzon debuts in the role of Eddie Cabrera.
Monzon is a newcomer to daytime, but the actor has several primetime roles under his belt. He's played the recurring role of DJ Zafon on Shameless, and he's had guest roles on CSI: NY, Dollhouse, and Entourage.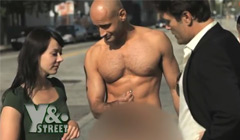 Monzo also starred in and produced the comedy web series, The Naked Man. Despite the series' title and its tagline -- "In a world full of danger, a hero arrives. But why is he naked?" -- fans won't see any actual X-rated nudity. They will, however, see a lot of skin and Monzon's mid-section blurred out.
During his time as a model, Monzon has been the face -- and body -- of Dolce & Gabbana underwear and fragrance campaigns. Also on the modeling front, Monzon has worked for Abercrombie & Fitch, Gap, H&M, and Sean John.
Fans of music videos may have also caught glimpses of Monzon in videos by Destiny's Child, Janet Jackson, Jennifer Lopez, Pink, and Mariah Carey's "Don't Forget About Us."
Monzon will appear on a recurring basis starting the week of April 16.