Though rumored for weeks, Ryan Paevey (Nathan West) has confirmed the news that General Hospital fans had feared: he's left his role as Nathan West on the ABC soap.
With Nathan's life hanging in the balance on-screen and ABC scheduling Paevey for a live tweeting session, it seemed inevitable that someone would ask Paevey if he was leaving the show. In fact, it was one of the first questions asked -- and Paevey's response came nearly a full 30 minutes before his on-screen character died.
"When we first talked about me live tweeting today, it was obvious i wasn't gonna be able to make it an hour without addressing this," Paevey said after a fan questioned why Paevey was referring to his time on General Hospital in the past tense.
Fans have been bracing for Paevey's exit since mid-January when a series of tweets hinted that something might be amiss.
Perhaps unwittingly, several social media posts by GH stars also tipped fans off. Eagle-eyed fans noticed what seemed like a goodbye cake for Paevey in a photo posted by Kelly Monaco. Later, a post by Brytni Sarpy teasing her return showed Valerie's police badge with a black band over it -- an indication of a fellow officer having been killed in the line of duty. Both posts have since been removed.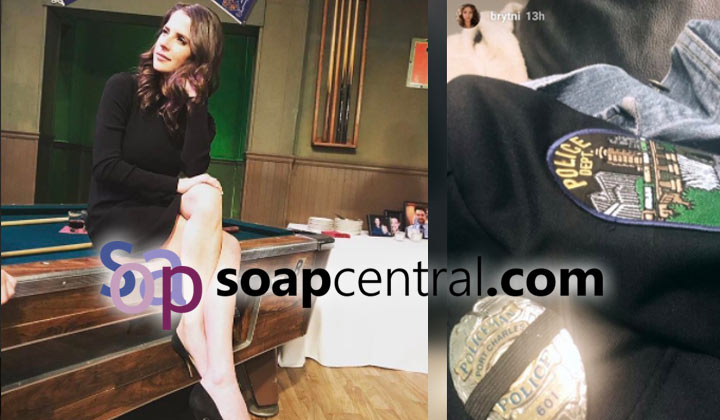 With the news of Genie Francis' exit still stinging, some fans took to Twitter during Paevey's live tweeting session to blast the show and behind-the-scenes execs for the actor's exit. Paevey was quick to set the record straight.
"The decision to leave was mine," Paevey clarified. "@valentinifrank and I sat down to talk as [gentlemen], and while he was disappointed, he gave me a better send-off than i ever could have asked for, and i will always be grateful. Cut the guy some slack, his job is hard, and thankless."
Paevey later shared additional thoughts on what goes on under the proverbial hood, saying, "It's hard to be captain. People don't realize that no one person is solely responsible for steering the ship, there are often many people behind each decision made....but the one who voices them often has to deal with whatever backlash may occur, and that's not really fair."
In addition to talking about what fans don't see get on camera, Paevey also offered a bit of insight about what his final scenes were like for him. "You had no idea how hard it is not to move at all, or even breathe, when people are giving such amazing performances literally right on top of you."
As for what's next for Paevey, the actor admits that he's not quite sure. "I have no idea, haha," Paevey stated. "Pretty sure Marrying Mr. Darcy on @hallmarkchannel will happen this summer, but beyond that, I'm gonna see if i can't align myself with some action movie stuff."
One thing appears 100% certain, though. Paevey will not be returning for a ghostly striptease at the next Nurses Ball. Asked by co-head writer Chris Van Etten if Paevey would miss the striptease at the Nurses Ball and if he would consider returning for the next one, Paevey's answer was "no and no."
Paevey joined General Hospital in January 2014.
How do you feel about the death of Nathan West? Would you have preferred to see Nathan recast -- or do you think killing off the character was the right decision? We want to hear from you -- and there are many ways you can share your thoughts.